March 2020
TATRC Blasts Off on a "Launch Date" with NASA
March 31, 2020 | Download PDF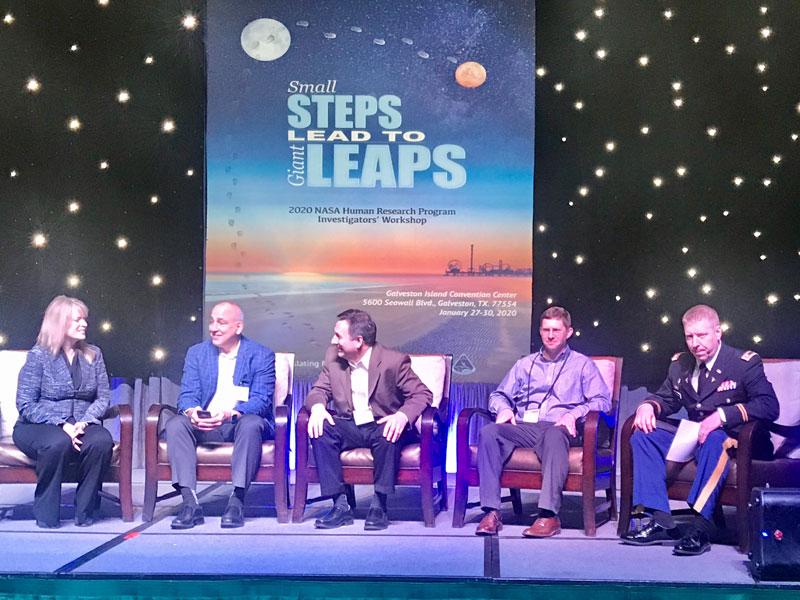 TATRC Deputy Director, LTC(P) Justin Stewart, participated in an inter-agency panel at the 2020 NASA HRP Investigators' Workshop that examined NASA and Army medicine parallels.
---
Over the last 12 months, TATRC has been working closely with the Human Research Performance (HRP) team at the National Aeronautics and Space Administration (NASA), to explore ways in which our common goals to expand digital health capabilities for asynchronous prolonged field care can be achieved together through a research partnership.
NASA's HRP Program is dedicated to discovering the best methods and technologies to support safe, productive human space travel. HRP enables space exploration by reducing the risks to astronaut health and performance using ground research facilities, the International Space Station and analog environments. This leads to the development and delivery of an exploration biomedical program focused on: informing human health, performance, and habitability standards; developing countermeasures and risk mitigation solutions; and advancing habitability and medical support technologies. HRP supports innovative, scientific human research by funding more than 300 research grants to respected universities, hospitals and NASA centers to over 200 researchers in more than 30 states.
A distinct parallel can be drawn between NASA's HRP goals and the work that TATRC is setting out to accomplish in austere environments. TATRC's Mobile Health Innovation Center (mHIC) Lab Lead, Ms. Jeanette Little stated, "The challenges that we face in the future fight, with disrupted and intermitted communication, and prolonged care align with the concerns that NASA has for deep space exploration. While the rest of the health care sector looks for digital health solutions that are founded on the high availability, fully connected access to medical expertise, the military and NASA are looking for solutions that are distinctly unique within the healthcare industry."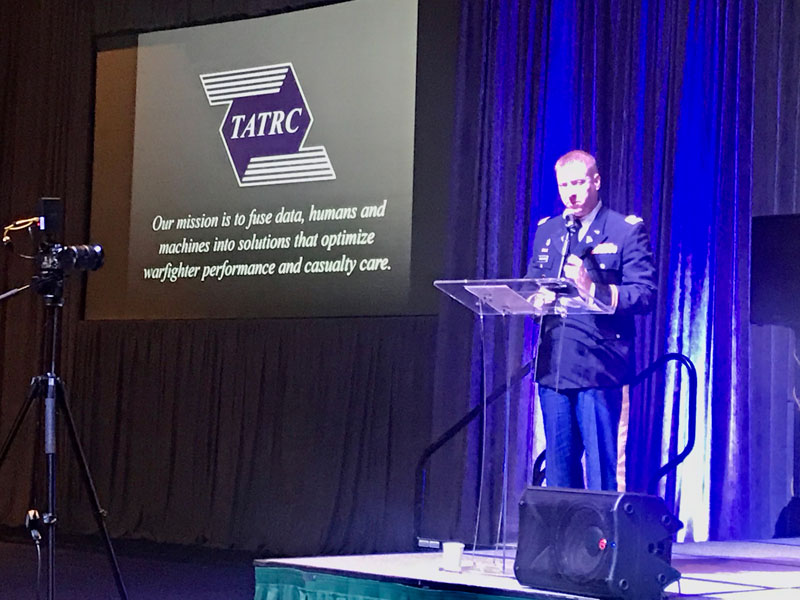 LTC(P) Stewart discussing TATRC's new mission and capabilities portfolio with the NASA audience.
---
Over the course of several scientific lab-wide VTC meetings, TATRC and the NASA HRP Team discussed portfolios, common research objectives, as well as future goals with each other. Additionally, Ms. Little was the first of TATRC's staff to be invited to participate in the 2018 panel discussion entitled "SpaceCom 2018" at NASA's Houston Lab with a distinguished panel of NASA researchers. The cross-collaboration with NASA has grown quickly since then, and earlier this year, TATRC and NASA got their first joint project funded. With TATRC as the lead, and the NASA HRP team providing letters of support, their new research topic on 'Medical Data Prioritization in Austere Environments' was just approved, and will hit the streets this coming fall. The intent of this research will be to explore ways to prioritize specific clinical data elements to determine which should be transmitted for remote consultation when the communication options are highly limited; which is something the Army and NASA both know a lot about. This is the first of what is expected to be a number of collaborations toward reaching common goals between TATRC and NASA research teams.
This past January, TATRC's Deputy Director, LTC (P) Justin Stewart, and Ms. Jeanette Little represented TATRC at NASA's 2020 HRP Investigators' Workshop in Galveston, TX. The theme of the conference was "Human Exploration – Small Steps Lead to Giant Leaps: Translating Research into Space Exploration" and featured over 1,000 attendees, 600 scientists, and 500 presentations. The annual, week-long meeting is a showcase of all of the NASA sponsored research involving technologies and tools to support future, manned space missions.
Two major themes of the NASA HRP research portfolio address asynchronous virtual health tools and solutions for prolonged care in austere environments. The research presented at the NASA HRP forum for these subject areas aligned perfectly with the Army Medical Simulation and Information Sciences / Medical Assist Support Technology (MAST) research task areas (e.g. Medical Robotics and Autonomous Systems [MEDRAS], and Virtual Health [VH]) and therefore, provided a good venue to learn more about research actively underway in this growing area.
Additionally, LTC (P) Stewart was able to participate in an inter-agency panel presentation and share the DoD's Medical Challenges and how they relate and align with NASA's research for space exploration (e.g. manned missions to Mars et al). LTC (P) Stewart's presentation resonated with the conference participants, who were able to clearly see how technologies for use in space exploration could also be applied for use on the future battlefield.
Both LTC (P) Stewart and Ms. Little were able to attend a networking session with all of the NASA HRP lead scientists, and met with NASA HRP's "techwatch" and research execution partners at Baylor Medical Center and the Potomac Group. This conference was an opportunity to learn more about how NASA leverages research agreements that are similar to Other Transaction Authority Agreements. Understanding how NASA and TATRC conduct research activities, will provide opportunities for mutually beneficial collaborations in the future.
LTC(P) Stewart and mHIIC Lab Lead, Ms. Jeanette Little, represented TATRC at the NASA conference in Galveston, TX.
---
LTC (P) Stewart stated, "The 2020 NASA Human Research Program Investigators' Workshop provided a tremendous opportunity to learn about areas that NASA is researching involving care of humans in austere environments. The conference overall, provided a first rate venue to network and explore opportunities where common interests intersect and overlap between the Army and NASA."
An informal goal has been established to find a common research objective between TATRC and the NASA government teams within the next two years to ensure that our research is complementary, and not duplicative in nature. Dr. Baraquiel Reyna, from NASA's HRP Program stated that he is "excited to partner with TATRC to revolutionize the medical care being provided to our Warfighters and astronauts."
This excitement was echoed by LTC (P) Stewart as well, "Whether terrestrial or extraterrestrial, the human is the one going to austere environments. Both the Army and NASA are sending people where there are no medical assets, so we have more in common than people realize. As the Army researches ways to provide medical care in austere environments we can work with NASA to share efforts in novel ways to provide that care. Common areas of interest include, but certainly are not limited to, clinical decision support tools, autonomous robotic systems for surgical support, and ways of providing care where the digital signal is limited. Fusing data, humans and machines is going to take a lot of work and being able to collaborate with NASA is going to be a game changer. I look forward to 'forging the future' with NASA to save lives in space and on the battlefield!"
This article was published in the September 2020 issue of the TATRC Times.