June 2020
TATRC Unveils New COVID Resource Page
June 30, 2020 | Download PDF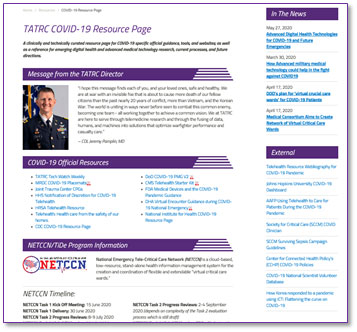 TATRC has launched a special addition to the TATRC.org website specifically dedicated to telemedicine as it relates to the COVID-19 pandemic. This new TATRC COVID-19 Resource page is a clinically and technically curated reference tool for official COVID-19 specific guidance and websites; as well as a reference for emerging digital health and advanced medical technology research, focused on current trends, processes, and future directions.
Within this dynamically streamlined page, you will find up-to-date information on official government COVID-19 guidelines, available support, as well as both internal and external key resources to support providers, clinics, and yourself through this troubled time.
Additionally, the TATRC COVID-19 Resource page also features a collated news feed, called the TATRC Tech-Watch Weekly. This section is a weekly collection of COVID-19 focused Telemedicine articles, emerging technologies, clinical guidelines, and workflows from across industry, academia, medical research, and government.
All of this is brought to you by the USAMRDC's Telemedicine & Advanced Technology Research Center. We hope you find this useful and informative.
This article was published in the October 2020 issue of the TATRC Times.