June 2020
Many Hands, One Team: TATRC Tackles COVID-19
June 30, 2020 | Download PDF
Throughout the COVID-19 pandemic, stories of selflessness, sacrifice, and coming together for the greater good have been told the world over. Here at TATRC, we're privileged enough to be able to highlight just a few instances of our very own team members pitching in and going the extra mile to help out during a time when everyone could use an extra hand. From tireless IT tech support and COVID-proofing our facilities, to sewing masks and 3D printing face shields for frontline healthcare providers, Team TATRC has truly shown what it means to be a team in these trying times.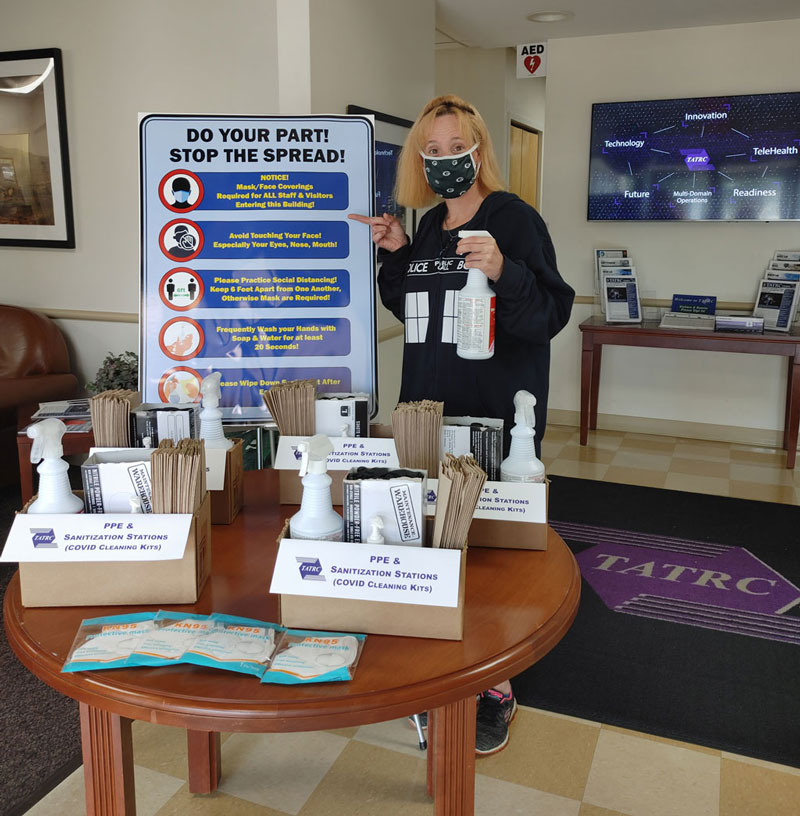 ---
---
As many of you will be familiar, the shift to long-term telework was not without its challenges. Limited VPN access, new software deployment, and more created quite a few obstacles in the workday. Building bridges over all of them, though, was our beloved Mr. Joe Farabaugh, Tech-Titan and Support-Superstar! Joe has been ever-present and always willing to help. With his daily morning check-in emails to the team, phone calls and remote support to folks at home, he has handled it all with his characteristically friendly service. Thanks to Joe's never-ending efforts, the team has been able to remain connected and as productive as ever!
---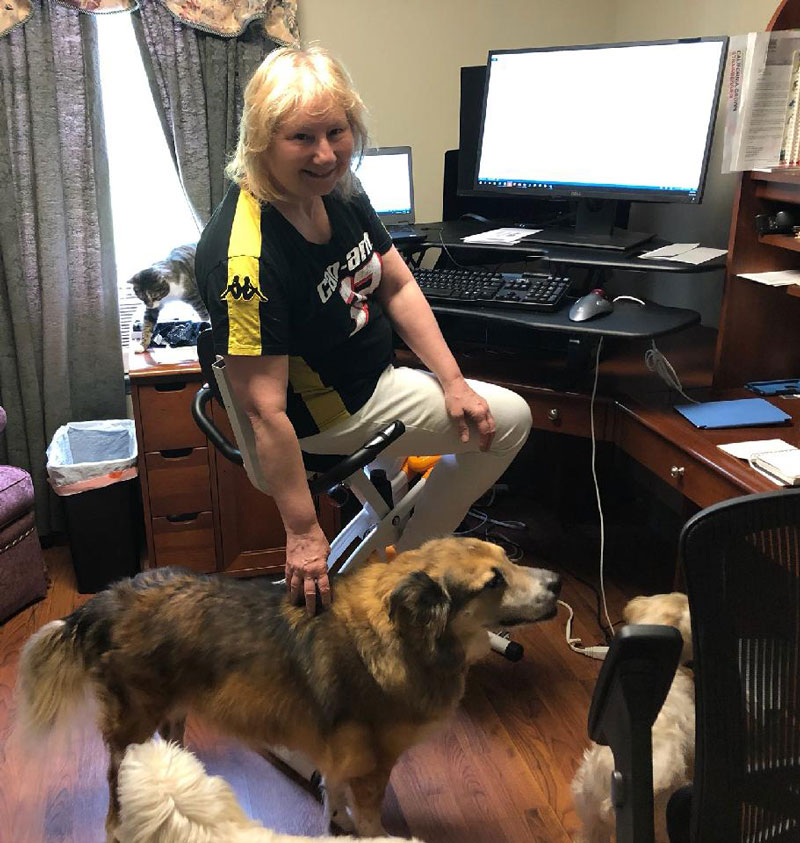 ---
The pandemic also brought with it plenty of changes to facility safety protocols. Luckily for us, our "fabulous facilities folks," Mr. Joe Barrick and Ms. Tanya Rexrode, are never ones to back down from a challenge! Joe and Tanya jumped to the task, making sure our building was properly cleaned and sanitized, by installing over 20 automatic hand sanitizer units throughout the office, and putting together individual cleaning kits for each lab area and common space. Their hard work ensures not only that our areas meet and exceed the high standards recently put in place, but more importantly the safety of each and every member of our team who visits the office.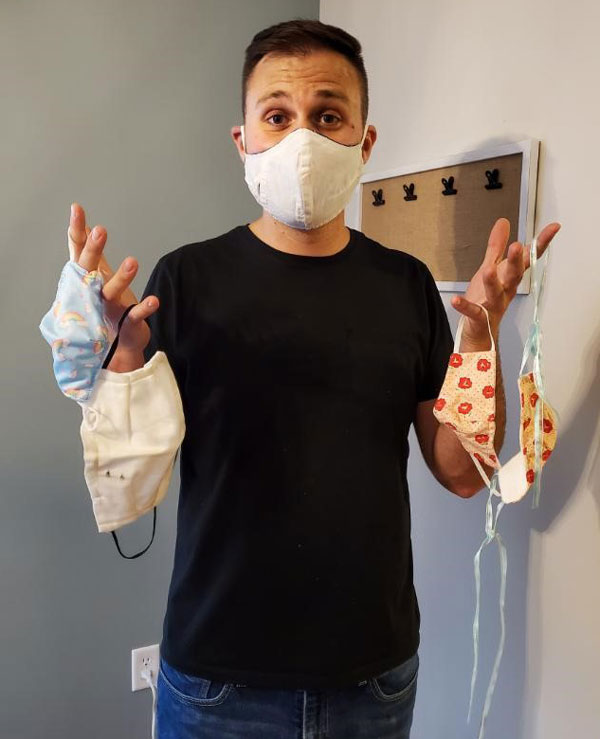 Even outside of the office, Team TATRC's volunteer efforts were on full display! As many will know, Mr. Nate Fisher of our MISL Lab, collaborated early on with MAJ Steven Hong, of the Walter Reed National Military Medical Center, and the U.S. Army Medical Materiel Development Agency, to help 3D print more than 250 face shield frames for healthcare providers on the frontlines of the COVID crisis. Lending their own time, materials and talents, superb seamstresses Ms. Cheryl Merritt, TATRC's Chief of Staff, and Ms. Ollie Gray, Project Manager, set to work sewing and distributing cloth face masks to those in need! Additionally, Mr. Brandon Grimes, TATRC's Multi-media specialist and his family, in response to a call for help from their local Mayor, crafted cloth face masks and donated them to the local town shelter for those who didn't have the means to make their own.
Throughout this entire pandemic, it has been inspirational hearing about all these stories of our TATRC Team members helping out however they can. A big thank you goes out to everyone mentioned here, as well as anyone else who went out of their way to lend a hand to someone in need. Way to demonstrate the true spirit of what it means to be a part of Team TATRC! TEAM - Together Everyone Achieves More!
This article was published in the October 2020 issue of the TATRC Times.