June 2020
Message from the TATRC Director
June 30, 2020 | Download PDF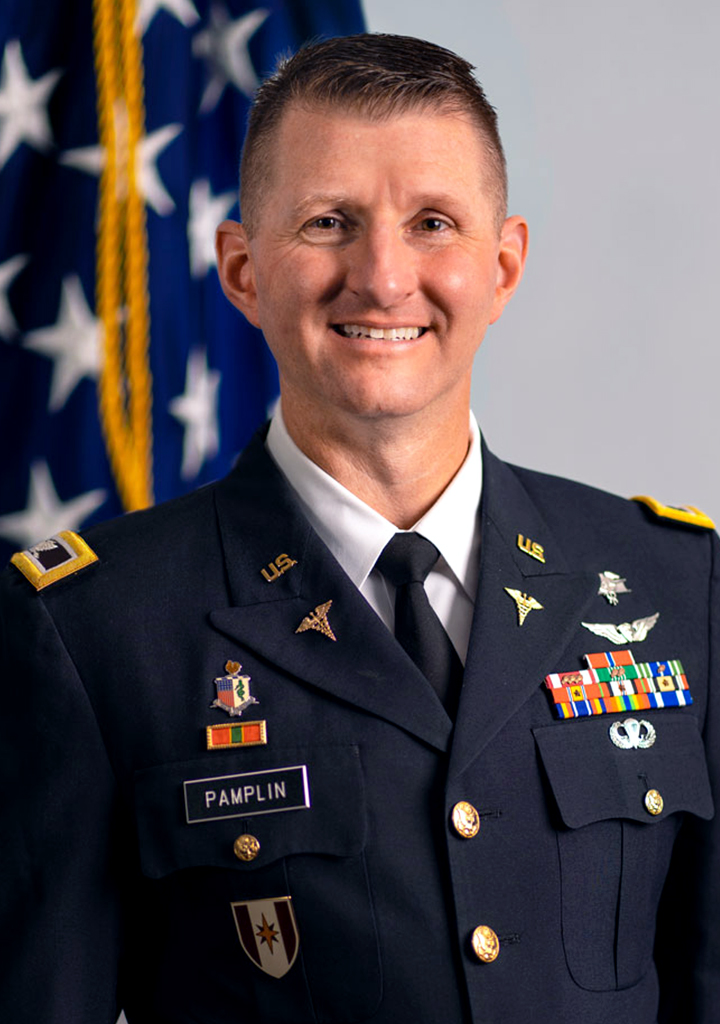 I hope this message finds each of you and your loved ones safe and healthy. We remain at war with an invisible foe that has caused more death of our fellow citizens than the past nearly 20 years of conflict, more than Vietnam and the Korean War combined. The world, particularly the scientific community, is uniting in many ways never before seen to combat this common enemy and working together to achieve a shared vision. We dedicate this issue of our TATRC Times Newsletter to the fight against COVID-19, to the scientists working to find treatments and cures, to the healthcare workers on our front lines, and to the people struggling to heal from illness or those struggling to recover from loss. Within this special issue of the TATRC Times, we hope to articulate our evolving TATRC response to this worldwide pandemic and our unique technical capabilities to assist in the future.
COVID-19 presents a situation where critical healthcare resources can be overwhelmed by patient volume. Even if enough equipment is made available, there are not enough critical care trained clinicians to manage all of the critically ill patients during a national emergency, especially in rural and austere locations. Even early in this pandemic, hospital systems in NYC, Texas, and abroad had already been forced to begin triaging patients in ways that only military medical providers have had to do in recent memory. While the disaster struck earliest in NYC, the rest of the nation has felt these effects as hot-spot surges have occurred in nearly every state.
It's for these reasons that TATRC and the work we have been doing for years is so needed right now. TATRC is uniquely positioned to support the technology response to this disaster through our extensive work in digital health, telemedicine, our knowledge of information technologies and how to adapt them to austere medical environments, bringing them together into one intelligent medical system, and ultimately to increase capability and capacity of the healthcare system at the point of need to optimize patient/casualty outcomes.
In support of the COVID-19 response, we established a new Technology in Disaster Environments (TiDE) research portfolio. The portfolio is broken into three lines of effort intended to develop and study: 1) digital health ecosystems (DHEs) for disaster medicine, 2) delivery of hospital-like capabilities to the point of need using telemedicine support, remote control, and automation of medical devices to relieve task saturation, and increase capability and capacity in resource-limited care contexts, and 3) cloud enabled big data solutions that incorporate disparate data sources – many from the DHEs and medical devices we develop in this portfolio – into decision support visualizations and dashboards using artificial intelligence and machine learning.
The foundational innovation for this portfolio has been the rapid development, deployment and testing of the National Emergency Tele-Critical Care Network (NETCCN), a DHE for care of patients with severe COVID-19 illness. You can read more about the solutions developed under this effort starting on page 8.
Overall, our challenge has been to identify, prioritize, and synchronize new and ongoing technology development efforts for this crisis but also in a manner that, when this crisis is over, can be transitioned for use in the context of multi domain operations. We focus on technology that aids patient care – casualty assessment, medical decision making, and patient treatment, all in the context of available resources and the need to synchronize care across its continuum. It is worth noting that we do not make healthcare systems, and we are not investing in technologies within this portfolio to treat only one disease or one problem – we don't make systems to treat diabetes alone, or gunshot wounds alone, or even COVID-19 alone – we make healthcare systems that are flexible, adaptable, and resilient to whatever problems they are presented with. Similarly, as we develop technology for use in a disaster, the tools we create must be equally usable for COVID-19, other medical problems, and trauma, even combat trauma!
This new portfolio, along with Army Futures Command priorities related to maximizing soldier potential and convergence of data across the battlefield – from sensor to shooter (or sensor to medic!), to any command and control node, in near-real time, with appropriate authorities (or for appropriate medical decisions) - is evolving programmatic priorities in the midst of this national crisis. As we move forward, we must be radically inclusive of our partners, customers, and other stakeholders across the command and indeed the enterprise, to achieve success by ensuring necessary perspectives, requirements, and ideas are included, that we prioritize appropriately our work, and, perhaps most importantly, to maintain awareness of what we are doing and how we can help each other.
Our three lines of effort account for care across the continuum of medicine from health-at-home to pre-hospital/outpatient care to inpatient/hospital contexts including critical care and surgical care. To make ONE system for all of that, we need an infrastructure, a digital health ecosystem. This ecosystem is ever present, continuously monitoring the Warfighters' health status, nudging them when appropriate to make better, healthier choices, and, when there is a problem, connecting the doctors, nurses, health coaches – whatever is needed - from wherever they may be in their home, office, hospital or even the battlefield. A mesh of connected persons who need healthcare advice and experienced healthcare professionals who can provide it. We are creating a medical intelligent system that maximizes capability and capacity at the point of need.
TATRC is dedicated to supporting the fight against COVID-19 through our continuing mission to forge the future by fusing data, humans, and machines into solutions that optimize Warfighter performance and casualty care. Please stay safe, stay healthy, and stay positive.
This article was published in the October 2020 issue of the TATRC Times.