June 2020
TATRC Director Featured in Combat & Casualty Care Magazine for Efforts to Fight COVID
June 30, 2020 | Download PDF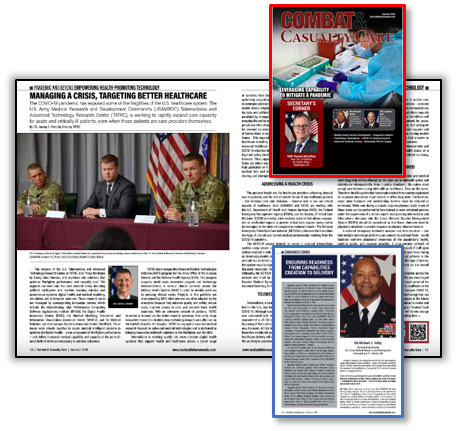 The USAMRDC and several of its affiliate labs were prominently featured in the Summer 2020 issue of Combat & Casualty Care Magazine.
The centerpiece of multi-page spread is a lengthy interview with Brigadier General Michael J. Talley, Commanding General of MRDC and Fort Detrick, MD, regarding the Command-wide efforts to combat COVID-19.
Additionally, the magazine featured and highlighted an in-depth interview with COL Jeremy Pamplin, Director of TATRC, on a wide variety of topics related to medical simulation and technology, as well as our new NETCCN initiative. The article entitled: "Managing a Crisis, Targeting Better Healthcare" can be found on Page 14, or by clicking the link here: https://lsc-pagepro.mydigitalpublication.com/publication/?i=667283&ver=html5&p=16.
The magazine also featured two other articles focusing on the various achievements by our colleagues at the Walter Reed Army Institute of Research and the U.S. Army Medical Research Institute of Infectious Diseases in the battle against COVID-19.
MRDC continues to undertake efforts to make its stakeholders, media partners, and the general public aware of its vital and integral role in combatting the novel coronavirus.
This article was published in the October 2020 issue of the TATRC Times.