June 2020
TATRC Builds the National Tele-Critical Care Network
June 30, 2020 | Download PDF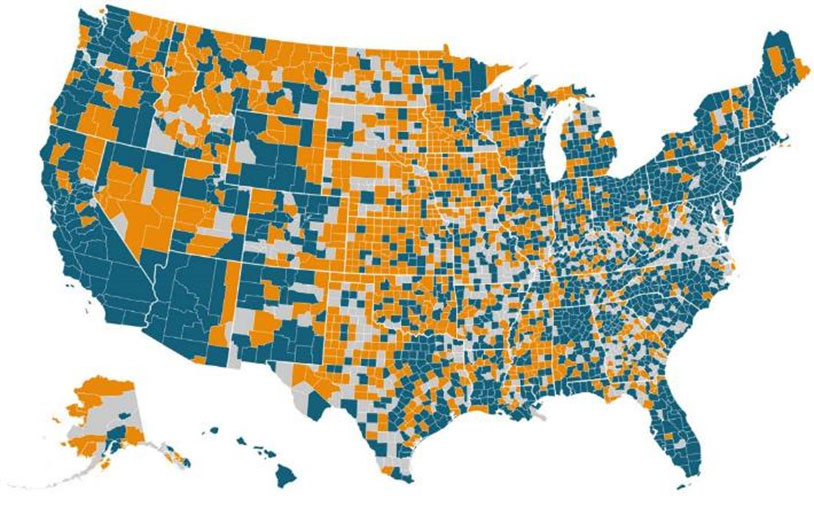 TATRC Director COL Jeremy Pamplin received the Warning Order from MRDC Headquarters in early March: What can TATRC do to advance the fight against COVID-19?
COL Pamplin assembled the Command Team and lab leads to discuss some ideas. As BG Michael Talley, the MRDC Commanding General, had instructed many times, "Start from the foxhole and work backward."
While there are many opportunities to apply digital health technologies and information and communication technologies more broadly to COVID, the TATRC team needed to constrain ideas to those that would both impact COVID, and be available in time and build on its labs' capabilities and competencies.
Soon, a concept emerged that, although since refined many times, would launch TATRC's work for the next several months: Rapid and interactive development and deployment of a National Tele-Critical Care Network, otherwise known as 'NETCCN.' In broad strokes, NETCCN addresses a fundamental problem: Where there are no intensive care unit (ICU) beds, there are no critical care trained clinicians. As a map from Kaiser Health News reveals, vast swaths of the United States lack a single ICU bed. And, sadly, many COVID patients require intensive care.
Another demand of the COVID pandemic is the need to protect caregivers from infection. Attrition of scarce clinical professionals like critical care experts could further risk the ability to care for COVID patients. Distance critical care experts should not need to travel to the bedside to support patient care, or even to a hospital or clinic. Further complicating this challenge is that many of the places that lack ICUs (or even hospitals), also lack adequate broadband. So, as at least a minimum, tele-critical care capability for NETCCN would need to operate from "anywhere to anywhere" and under minimal network requirements. In the early days of the pandemic, the New York tristate area was hardest hit. There are, of course, plenty of hospitals and ICU beds in New York, but the response was still falling short. The team soon began to sketch out a model for supporting not only local but community-wide, regional and even national care through a network of virtual critical care providers. Clinicians from California or Texas or Kansas could help in the COVID fight in New York. And those in New York could return the favor in others' times of need. NETCCN would truly need to be a national capability.
Assembling these concepts into a real plan was greatly aided by COL Pamplin's past thought leadership in the area of tele-critical care, through his participation in the Society of Critical Care Medicine (SCCM) and his operational and garrison experiences as a practicing Intensivist. Soon, clinicians from SCCM and from around the nation, many of whom were grappling with the same challenges, were willingly volunteering their expertise and insights to help shape the rough concept for the NETCCN into a program for which TATRC could seek and receive funding, and ultimately execute. The TATRC team, with co-authors from esteemed clinical care experts from around the nation soon published, "Advanced Medical Digital Technologies for COVID-19 and Future Emergencies" in the Telemedicine and e-Health Journal (https://www.liebertpub.com/doi/10.1089/TMJ.2020.0140).
What is a NETCCN?
At its most basic level, NETCCN is a cloud-based, low-resource, stand-alone health information management system for the creation and coordination of flexible and extendable "virtual critical care wards." These high acuity, virtual wards would bring high-quality critical care capability to nearly every bedside, be it a healthcare facility, field hospital, or gymnasium. Based on cellular communication networks, mobile technologies and cloud computing, the NETCCN will support the extension of high-quality intensive care to places which lack adequate critical care expertise and resources necessary for care of COVID-19-related illness.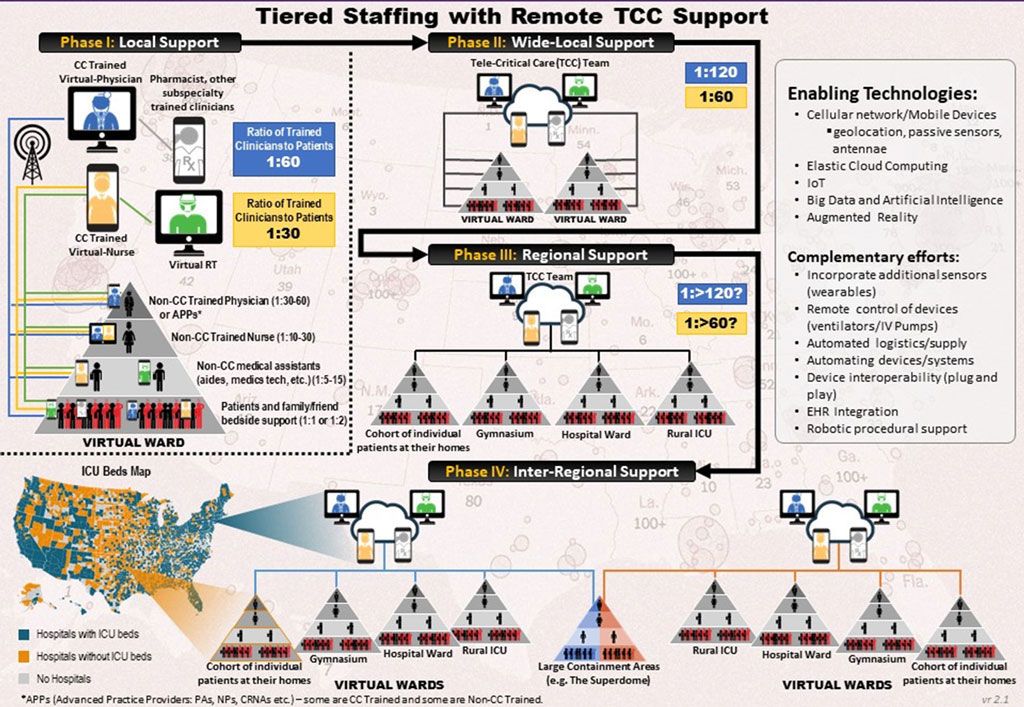 NETCCN can be tiered to support a multitude of environments.
---
While NETCCN requires technology, it also requires the incorporation of technology and expertise into a model of care in which distance intensive care clinicians support non-critical care clinicians, patients and, in some cases, their families. Ultimately, teams using NETCCN platforms should be able to care for individual patients and groups of patients but also scale to the regional and national level. Based on the work of the SCCM, TATRC developed a tiered staffing model and path for scaling NETCCN.
Adding Capabilities to Extend the Scope and Reach of NETCCN
The care that COVID patients receive in hospital intensive care units (ICUs) often involves an array of medical devices like ventilators, infusion pumps and other advanced technologies. While NETCCN platforms support a basic capability for clinicians to interact with local caregivers and patients "from anywhere to anywhere," based on insight from SCCM and early COVID response, the TATRC team sought to add "virtual hospital" capabilities to NETCCN to allow distance clinicians the ability to control and see data from ventilators and other medical devices from a distance.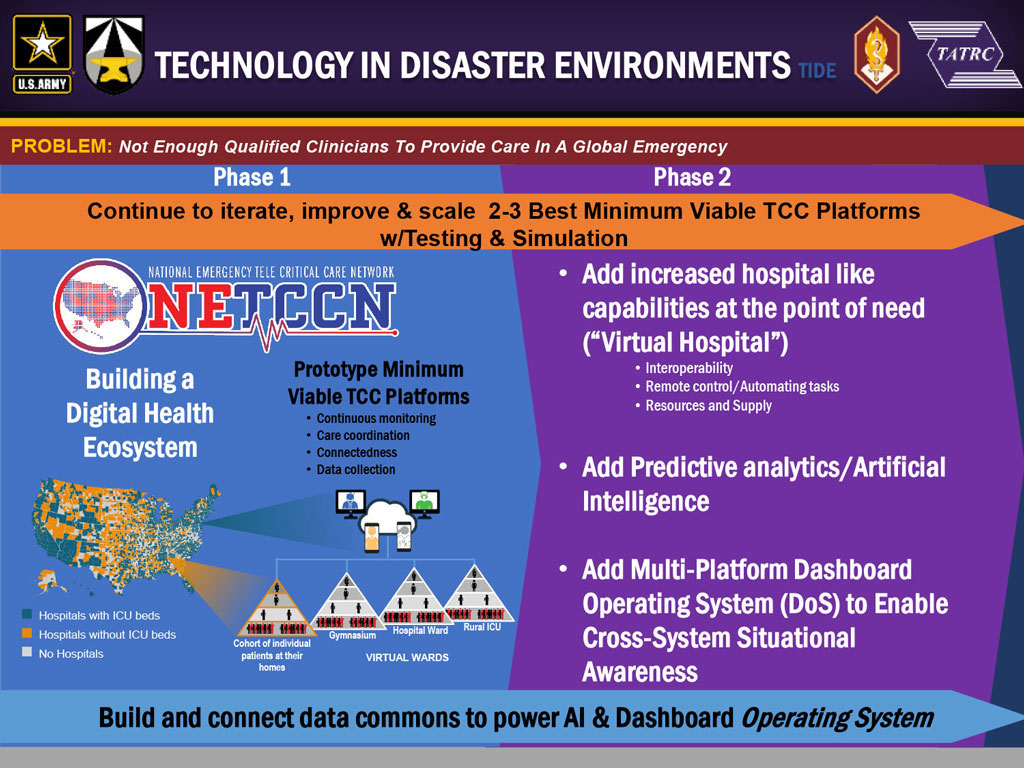 NETCCN testing is working in phases, with only the top awardees progressing to each phase.
---
Realizing the vision of NETCCN as a network that supports regional and national response will require the addition of multiple levels of dashboards to assist clinicians and other civilian and military leaders using NETCCN platforms to share information and to receive information to help them make decisions.
Finally, in order to learn from the care delivered through NETCCN – to both inform research and to build algorithms for artificial intelligence – the TATRC team sought to incorporate these dashboards into a situational awareness architecture.
From NETCCN Concept to Reality
The COVID pandemic – and the CARES Act funding – required TATRC to move quickly in turning NETCCN from concept to reality. Three key factors allowed the TATRC team to fund and initiate work on NETCCN in a matter of weeks (and not months or years, as is typical with many federal acquisitions). First, TATRC used Other Transaction Authority (OTA) through the Medical Technology Enterprise Consortium (MTEC) in place of regular contracting to reach potential offerors for NETCCN. The TATRC team, led by the Sponsor's Office Technical Representative (SOTR) and the Lab Director of the Mobile Health Innovation Center, Ms. Jeanette Little, developed a Request for Prototype Proposal (RPP) and – through MTEC – released the RPP and held a proposers' conference that attracted a record 600 participants. Instead of full proposals, MTEC's OTA required the prospective clinical and technical teams to submit a 10-page "enhanced whitepaper" and draft budget. With the receipt of 78 enhanced whitepapers, TATRC was ready to screen, review and select the 'performers' to begin work on NETCCN.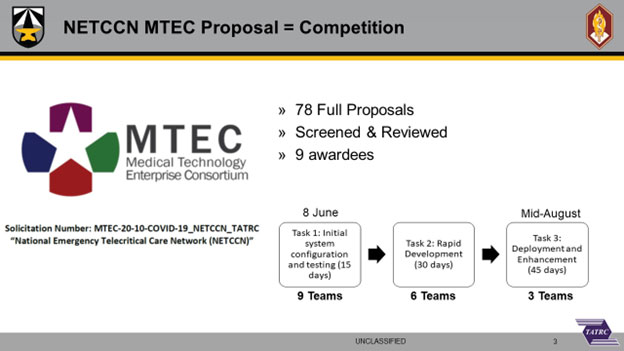 Utilizing MTEC helped TATRC make NETCCN a reality in record time.
---
Another key factor that allowed TATRC to move so quickly was the establishment of a virtual team. TATRC developed evaluation criteria and screened dozens of whitepapers in under one week because it leveraged the assistance of a virtual team consisting of experts like Dr. Peter Pappas from the University of Central Florida, SCCM, members of TATRC, but also federal employees from other parts of MRDC and the Department of Health and Human Services who agreed to assist. A proverbial village assisted TATRC in narrowing the field in conducting the full reviews. Finally, TATRC structured the NETCCN project as a series of "sprints" – each followed by evaluation and potential down-selection - to ensure that the NETCCN performers deliver.
TATRC awarded 9 clinical / technical teams to perform Task 1 of NETCCN, which was a 15-day-sprint consisting of the initial system configuration and testing of NETCCN's minimum viable platforms for the care of a single virtual patient.
TATRC awarded the following nine teams for Phase 1 of the NETCCN project:
Avera Health with VitelNet and DocBox
Deloitte Consulting, LLP with AWS GovCloud, Decisio Health, Elsevier, Qventus, T6 Health System, Verizon, Zyter
Expressions Network, LLC with Mercy ACO Clinical Services, Active Innovations, and SDSE Networks
The Geneva Foundation with Omnicure, Society of Critical Care Medicine (SCCM) Discovery Network, DocBox, MD PnP Program at Massachusetts General Hospital, and Madigan Army Medical Center (MAMC)/ Telemedical Research for Operational Support (TR4OS)
Oregon Health and Science University with GE Healthcare and Microsoft
Medical University of South Carolina with Advanced ICU Care, Doxy.me, General Electric, Masimo, Medtronic, Microsoft, Mushroom Networks, SmileCDR, Ventec, ViaSat, Carnegie Mellon University, Case Western Reserve University, Clemson University, Dartmouth University, Mass General Hospital, and University of California, San Diego
Phillips North America with Emory Healthcare
Unissant, Inc with ISeeYouCare, T-Mobile, Dr. Jay Sanders, Dr. Craig Goolsby, and Dr. Herb Rogove
University of Pittsburgh with UPMC Health System and Microsoft
What's Next for NETCCN?
In the next issue of the TATRC Times, TATRC will report on the progress of the NETCCN project, including the results of the Task 1 evaluation, goals of NETCCN Task 2, and exciting developments regarding the acceleration of NETCCN to care of critically-ill COVID patients and transition with multiple partner agencies. For more information on our NETCCN efforts, please visit our new "Resources" Page at www.tatrc.org/www/resources/covid-19.html
This article was published in the October 2020 issue of the TATRC Times.