June 2019
Congratulations to our Esteemed Director, Newly Promoted Colonel Jeremy Pamplin
June 28, 2019 | Download PDF
It was a picturesque day; the sun was shining and a light breeze had Old Glory waving proudly in front of the scenic backdrop of Nallin Pond for our esteemed Director, Jeremy Pamplin's promotion to Colonel! The promotion ceremony, which took place on 20 May, was presided over by BG Michael Place, the Deputy Commanding General, Regional Health Command – Pacific, and long-time mentor and family friend of COL Pamplin.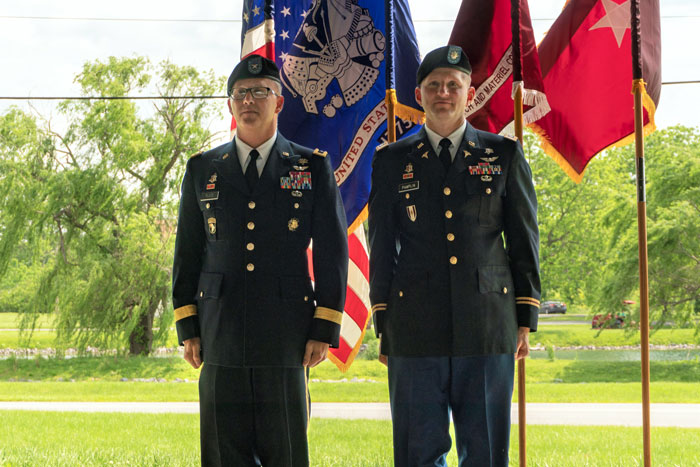 BG Michael Place and TATRC Director, COL Jeremy Pamplin, stand at attention during COL Pamplin's promotion ceremony.
More than 80 family, friends, and coworkers attended in support of COL Pamplin's exemplary achievements and to bear witness to this monumental moment in his distinguished career.
Seated among the front row were distinguished guests that included: USAMRDC Commanding General, Barbara Holcomb, Ft. Detrick Command Sergeant Major, Timothy Sprunger, Father Michael Jendrek of St. Ignatius of Loyola Catholic Church, Event Proctor, Mr. Kevin Ross, and COL Pamplin's family members – wife Erica, sons Conner and Owen, daughter Hailey, mother Ms. Harriet Strauss, and father COL (Ret.) Charles Pamplin.
More than 80 were in attendance for the ceremony, including USAMRDC Leadership and other notable military personnel.
Following a moving opening invocation from Father Mike, Pastor for the Pamplin family, BG Place then took the stage to deliver his remarks on the character and caliber of COL Pamplin, and the importance of such an event. No stranger to public forums, BG Place spoke passionately and proudly of his longtime friend and colleague, stating, "Jeremy brings that combination of innovation, creativity, what I would call 'disciplined innovation,' to get things done the right way so that they're sustainable, and make a difference in future battlefields." BG Place highlighted the significance of being promoted to Colonel, noting that such a rank is often times the apex of many dedicated and honorable careers in military service, exclusively awarded to those who have distinguished themselves as extraordinarily worthy.
As the official promotion commenced, COL Pamplin's family joined him front and center to assist. Proud smiles, hugs, and a few shouts of joy from daughter Hailey, ensued as they pinned the eagles onto their father's shoulder boards. COL Pamplin then stood at attention during an exceptionally poignant moment as his father, a retired Colonel himself, fitted the new beret onto his son's head.
COL Pamplin's family pins the Eagles onto his shoulder boards.
As the newly-promoted Colonel took the floor to thank family, friends, and colleagues for attending, he made a point to acknowledge that it was not just an important moment for him, but also for those who had helped guide and push him to this milestone, saying "I may be the one standing up here, but it's not just my success. It's also for all those I've come across over the years that helped me along my journey and gotten me to where I am today. I certainly couldn't have done it without you."
Team TATRC is honored to have been able to celebrate this well-deserved achievement with COL Pamplin and his family, and we look forward to the future under his leadership as TATRC's newest Director! Big Congratulations on another career milestone, Sir! Your TATRC family is proud!
This article was published in the November 2019 issue of the TATRC Times.