November 2018
4th Annual Open House Adds New, Live Simulated Medical Scenarios to its Lineup
November 8, 2018 | Download PDF
By: Leticia Hopkins, USAMRMC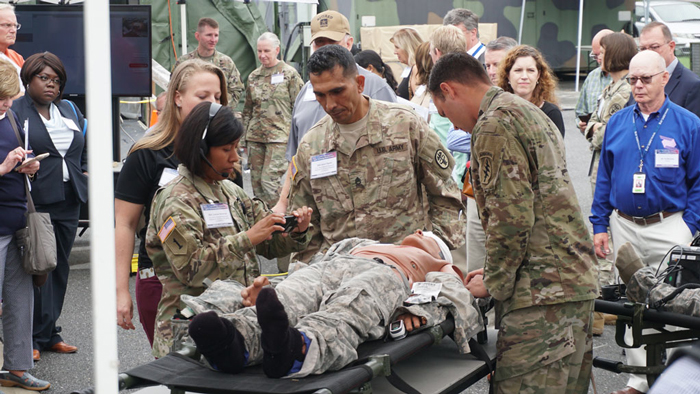 Medics relay patient data and receive feedback remotely from a doctor in real time.
---
The U.S. Army Medical Research and Materiel Command's Telemedicine and Advanced Technology Research Center (TATRC) hosted its fourth annual open house and technology demonstration at Fort Detrick 12 September.
Lt. Col. Jeremy Pamplin, deputy director, TATRC, said the open house is a relationship-building event and it's those relationships that TATRC builds with others, both here and beyond, that are important.
Pamplin added that relationships are a key aspect of TATRC's collaborative innovation to develop medical technology designed to improve future combat casualty outcomes.
From 10 a.m. to 3 p.m., the event gave more than 350 guests, from academia, industry and government, the opportunity to see and interact with TATRC's technology and engage in fruitful discussions with the research leads. Pamplin said TATRC's open house was designed to demonstrate and share with the community at large, TATRC's ability to develop innovative solutions for military medicine now and in the future, as well as showcase some of the knowledge and materiel products that have been or are in the process of being developed with collaborators.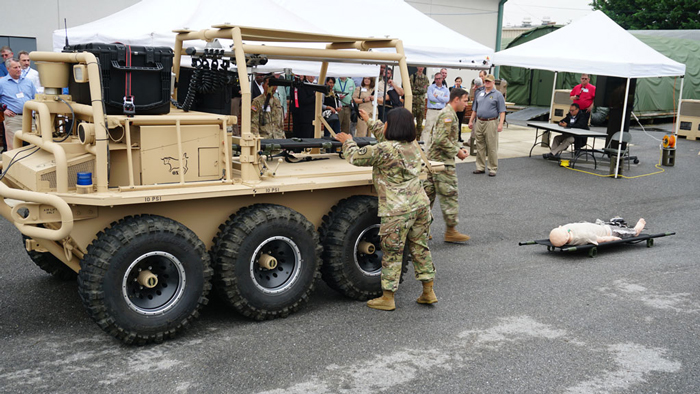 Soldiers demonstrate loading a casualty onto the unmanned Squad Multi-Purpose Equipment Transport (SMET).
At this year's open house, attendees had the opportunity to view more than 50 projects that were on display and set up over three main field tents, the Prototyping, Integration and Testing Lab and outdoor scenario area. The event also included six live simulated medical demonstrations showing many of these interactive technologies in use in a real-world situation.
Pamplin said the demonstrations were part of the story TATRC wanted to share with its guests about its abilities to develop solutions from the point of injury through the analytics that will eventually enable semi-autonomous and autonomous casualty care solutions. "We did a demonstration today," Pamplin added, "a scenario-based storyline which showed the ability to integrate these solutions across the operational medical battlespace and in particular the imagined multi-domain battlespace of our future."
With all of the available activities, participants found the scientific posters extremely helpful while navigating the open house. "Those technical posters were really quite helpful, so if I didn't have a lot of time to spend talking with one of the subject matter experts (SMEs), I could still get the key information that I needed right off the posters. It enabled me to say: 'this is the booth I want to be at,' and ask questions, [and say:] 'this is the technology I'm interested in," said Joni Fernbaugh, BdExec Consulting, LLC., whose job is to help companies that want to work with the military, find partnership opportunities.
For guests, the engagement with TATRC staff, demonstrators and the hands-on technologies, along with the addition of the simulated medical scenarios, made the open house extremely successful and worth attending again in the future. Kim Bahrami, from Medweb, said she has attended all three previous TATRC open houses, but this year by far, was one of the best and has been the most meaningful to her.
Col. Junker, Air Force Surgeon Generals Office participates in a surgical telestration demo in the Medical Modeling, Simulation, and Visualization Environment (MMSVE).
In reference to the engagement between exhibitors and guests, Bahrami added, "it was a good example of what the dialogue should be between industry and government."
A statement that Fernbaugh agreed with and added that it was due to the informal environment, staffed by proper SMEs that, allowed attendees to be able to ask tough and detailed questions. Which, according to Fernbaugh, is what industry is looking for.
Fernbaugh also said she is going to encourage her clients to attend future TATRC open houses.
Feedback like Bahrami's and Fernbaugh's, add to the reasons why the TATRC staff believes the event was successful.
"In terms of goal achievement, we absolutely developed some more key contacts," Pamplin said in response to the positive feedback TATRC received. "We gave insight to some senior leaders about the work that is done here, not just at TATRC central, but across our network of connections."
BG Shan Bagby, Deputy Chief of Staff for Support, MEDCOM G-1/4/6 (3rd from left) gets briefed on autonomous casualty evacuation.
Pamplin, who encourages people to continue attending the open houses in the future, said there is a lot to see and do including the opportunity to interact with SMEs, investigators, and partners from industry and academia. It's those demonstrations and displays that are the heart of the open house.
"It's developing a relationship that will hopefully bear fruit in the future for improving combat casualty care," Pamplin said. Pamplin also commented that research is an innovative process, and that it takes creativity, adding, "Evidence suggests that the more interaction you have with other creative beings, the more likely you are to find and create solutions that ultimately transition to capabilities that improve combat casualty care."
This article was published in the November 2018 issue of the TATRC Times.