June 2020
Dr. Gary Gilbert, TATRC's "MISL Man," Blasts Off into Retirement
June 30, 2020 | Download PDF
Tuesday, 23 June 2020 marked the end of an era as COL (R) Dr. Gary Reed Gilbert, TATRC's renowned thought-leader, pioneer, and innovator known throughout the world of military medicine, said farewell and officially began a well-earned retirement! Having served his country for more than 50 years, first as a Soldier and then as a GS Civil servant, Dr. Gilbert has led a storied career which has impacted military medicine in ways that will continue to be realized for years to come.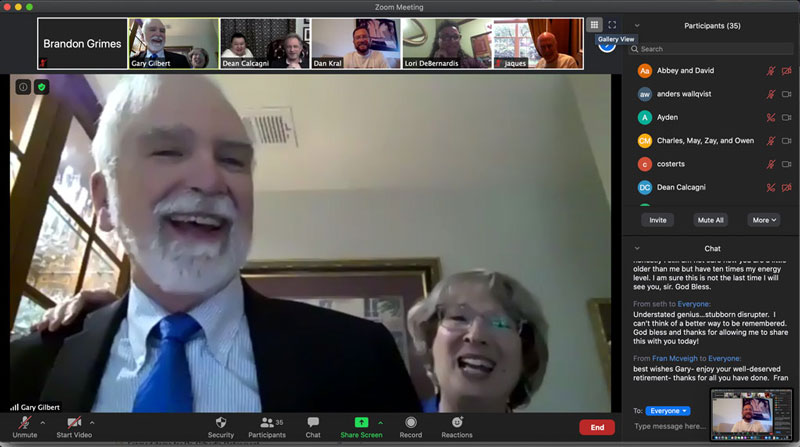 ---
Dr. Gary R. Gilbert distinguished himself, the U.S. Army Medical Research and Development Command, and the Telemedicine and Advanced Technology Research Center (TATRC) with his exemplary service and unparalleled achievements while serving as the PM for Medical Intelligent Systems and Capability Area Manager for Medical Robotic & Autonomous Systems from June 1999 to June 2020. During several challenging and tumultuous periods in the history of the organization, he was exactly the leader needed to propel TATRC forward and help chart a new course and direction for this unique Department of Defense (DoD) asset. His untiring efforts provided the framework to expand collaborative medical research and development in both National and International arenas. He is a natural born leader who spent his career providing guidance and direction, and energizing his team to develop and execute innovative programs and projects. As a seasoned leader with extensive operational experience in military medicine, Dr. Gilbert provided a solid foundation to launch revolutionary telehealth technology solutions both at TATRC and across the MHS. A dynamic and passionate leader, who understands the requirements and the gaps which must be addressed to meet the needs of our forward deployed forces, he established and managed a strategic plan for TATRC to become a laboratory for medical intelligent systems. The driving force in directly reshaping TATRC, Dr. Gilbert is a pioneer and visionary in Artificial Intelligence, Robotic and Autonomous Systems, and Telemedicine, innovating these fields to maximize the delivery of healthcare services. His pervading influence was reflected in policy and operational medicine initiatives. Always pushing the envelope to explore new solutions, his tireless efforts and unwavering commitment breathed new life into TATRC and, because of his insightful leadership, is a thriving and vibrant laboratory today.
In what proved to be a fitting format for the event, Dr. Gilbert's official retirement ceremony utilized technology and was held virtually, due to the COVID -19 pandemic, which allowed for more than 90 "Gilbert Groupies" across 7 states to gather and thank him for his devoted, loyal, and stellar performance over the years. TATRC Leadership presented over 8 official DoD and Army awards and certificates, while close friends and family sent in well wishes and told fantastic stories of years past with heartfelt video testimonials, and so many who love and respect Dr. Gilbert were able to participate and give him the farewell he most certainly deserved.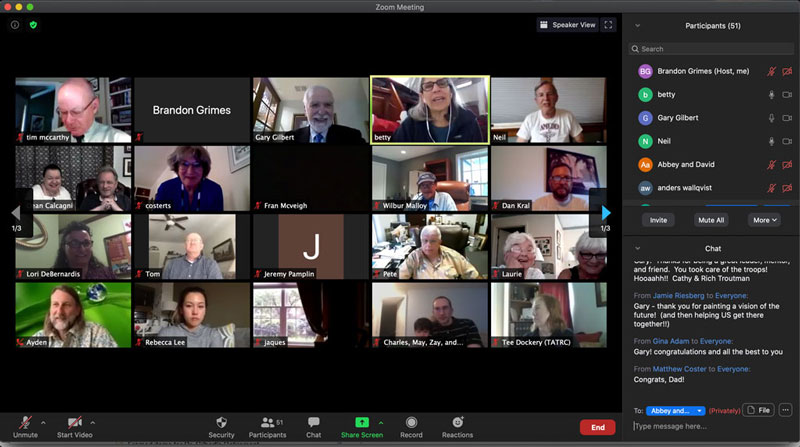 ---
From his early days at West Point and Cornell's ROTC program, to his time as a 70D Biomedical Information Systems Officer serving as CIO at Tripler Army Medical Center, Walter Reed, and eventually as TATRC's (or MATMO, as it was then known) 2nd Director, on to his civilian capacity as PM and Lead for TATRC's Medical Intelligent Systems Lab (MISL), Dr. Gary Reed Gilbert has truly done it all. And many of those he interacted with along the way remember their time together fondly. As Mr. Carl Manemeit, close friend and coworker of 11 years recalls, "We've gone to some really exciting places, like Ft. Dix, El Paso, the lovely garden spots of the world. But at least you did send me to Paris for one day."
Lori DeBernardis, TATRC's Public Affairs Officer stated, "Dr. Gilbert is our "Rock-of-Gibraltar executive," who is unflappable, even in the midst of the most trying circumstances. Gary is not afraid to push back especially when he believes in something, in fact, he enjoys it! He is fearless, persistent, passionate about his work and is never afraid to push the envelope or to stand up for what's right, even when it's "not popular" or goes against the grain, something I have witnessed on countless occasions over the last 24 years. He's the embodiment of integrity, a fair and unbiased voice of reason, a loyal and dedicated servant to his fellow soldiers and staff, and who leads by example. He raises the bar and pushes himself, and in turn, has inspired his team to do the same. He is the gold standard and he will be sorely missed."
Dr. Gilbert's commanding and powerful presence, both around the office as well as around the MHS at large, will be greatly missed. Whether it's his eclectic presence in staff meetings, brilliant digressions in email threads, or simply the inspiration that knowing someone who's had such a profound impact on the world is in his office just a short walk away continuing to break ground in the name of America's Warfighters, TATRC is surely better off for having had the chance to give a platform to Dr. Gilbert's genius.
As Mr. Nathan Fisher, PM and protege under Dr. Gilbert in TATRC's MISL lab put it, "It's a bit of a surreal experience sitting here thinking about trying to summarize what Dr. Gilbert has contributed not only to me personally, but to TATRC as a whole, because his impact was so large and multifaceted. He was TATRC's thought leader and he was the visionary who gave us direction, always full of ideas and contagious enthusiasm."
You would be hard pressed to find anyone who has had the privilege of working with Dr. Gilbert at some point along the way who did not echo those same sentiments. Thankfully for all of us, Dr. Gilbert's legacy is one that will continue in perpetuity, benefitting our great Nation and its Warfighters for generations to come. Although it's surely impossible to put into words, we'd like to give another round of thanks and the utmost gratitude to Dr. Gary Gilbert; a TRUE PATRIOT, without whom, life for those who have the great fortune of knowing him would be less in every way. Congratulations on your retirement and a legendary career, Sir, and Godspeed!
This article was published in the October 2020 issue of the TATRC Times.