June 2020
TATRC & WRAIR Team Up on New Device to Shield Surgeons While Treating COVID Patients
June 30, 2020 | Download PDF
An old English proverb says, "Necessity is the mother of invention." That never proved to be more true than now, while we witness our Nation striving to adapt and fight against the invisible enemy known as COVID-19. It's that necessity that drove TATRC and Walter Reed National Military Medical Center (WRNMMC) to innovate and invent the "COVID-19 Airway Management Isolation Chamber," or CAMIC.
The simple device, conceived, designed, built and tested by TATRC and Military Health System personnel from WRNMMC, Madigan Army Medical Center in Washington State, and Ft. Belvoir Army Community Hospital in Virginia, may be the answer to protecting health care workers from COVID-19 and other viruses during patient care.
The CAMIC is a three-dimensional airway 'tent' designed to contain the respiratory droplets of COVID-19 patients during intubations and non-invasive ventilation as a way to protect operating room staff. This rectangular device is a 2 ft wide by 1.5 ft tall frame made from PVC piping, complete with a clear plastic covering made from a standard polyethylene bag that is placed over a patient's head to isolate the particles that could spread from coughing or sneezing. The chamber cycles air out through holes in the piping — pushing in fresh oxygen on one side, and vacuuming out viral particles through the other side.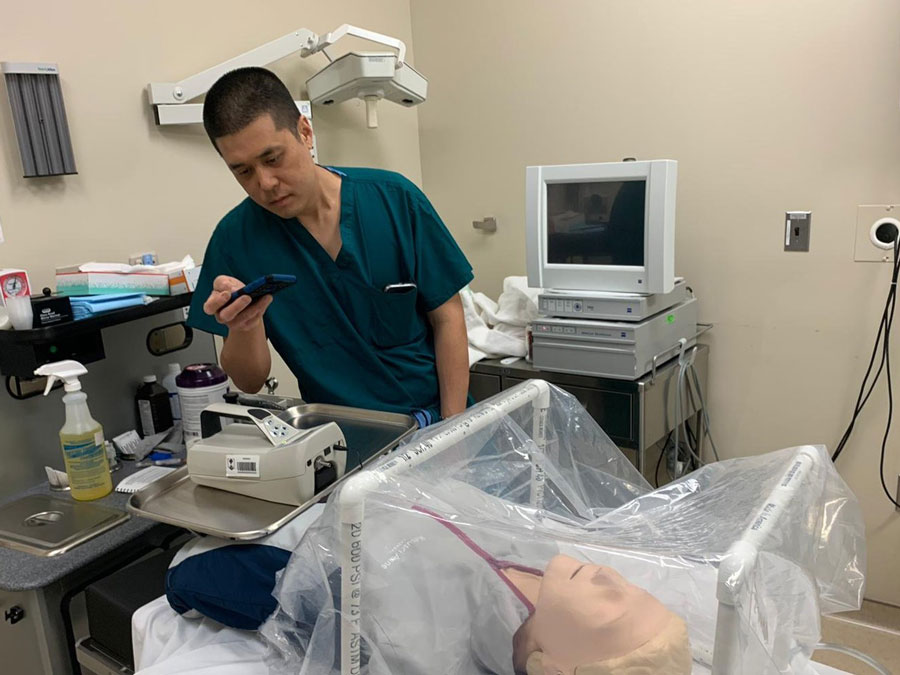 ---
A letter from the FDA to the U.S. Army stated, "There are no FDA-approved or -cleared devices for use as an extra layer of barrier protection in addition to PPE to prevent [Health Care Providers] exposure to pathogenic biological airborne particulates of patients during the COVID-19 pandemic." As a result of this, the newly developed CAMIC device received FDA emergency-use approval and authorization.
Army MAJ (Dr.) Steven Hong, an Assistant Professor of Surgery at the Uniformed Services University and Chief of Head and Neck Surgical Oncology and Reconstructive Surgery at WRNMMC, is credited as the inventor of the CAMIC, who worked with TATRC's own Mr. Nathan Fisher from the Medical Intelligent Systems Lab to build the first prototype of the device.
"It has been a whirlwind of ideas and countless hours of validation and testing. We have been able to go from concept to design, build, validation, redesign, rebuild, revalidation x 10, IRB process, patent process, and FDA Emergency Use Authorization clearance in less than six weeks. It has been truly remarkable to see the dedication and motivation of my team," said Dr. Hong. "I spent the last couple of years in one of the most innovative environments, Silicon Valley, and the mantra that this team has carried throughout this process reminds me of that time." Mr. Nate Fisher, echoed Dr. Hong's sentiments. "I'm inspired by how fast our CAMIC team, under Dr. Hong's leadership, was able to move from a rough concept sketch to a FDA Emergency Use Authorization and beyond. We relied heavily on the support of TATRC, other MRDC organizations, and the Defense Health Agency to keep the forward momentum going to meet this urgent need."
Nate Fisher worked tirelessly from his basement workshop during the initial concept phase while remotely staying in constant communications with the team members from Walter Reed. At the end of March, the CAMIC prototype was ready and delivered to our colleagues at Walter Reed for testing and further design changes.
"The beauty of this device is how simple it is," Mr. Fisher said, noting its use of "parts that are cheap and easily sourced." The device is currently being used at Walter Reed, Fort Belvoir, Fort Hood, Fort Bliss, Madigan, U.S. Central Command, Kapiolani Hospital in Honolulu, and INOVA Alexandria and Fairfax.
"Although we are dealing with the COVID-19 pandemic now, I am absolutely certain that the military will be called on in the future to battle other pandemics," said Dr. Hong. "One of our main objectives will be to develop a more operational-friendly CAMIC that could be used downrange or for transport of infectious patients."
The development of the CAMIC is an example of how tools developed by the MHS and USAMRDC's TATRC can ultimately play a larger role in the Nation's fight against the coronavirus pandemic.
The U.S. Army has applied for a patent on the CAMIC and the Army's technology transfer community is working to broaden its availability and use.
This article was published in the October 2020 issue of the TATRC Times.