April 2018
Congratulations to TATRC's Q2 Employee of the Quarter, Mr. Nathan Fisher!
April 13, 2018 | Download PDF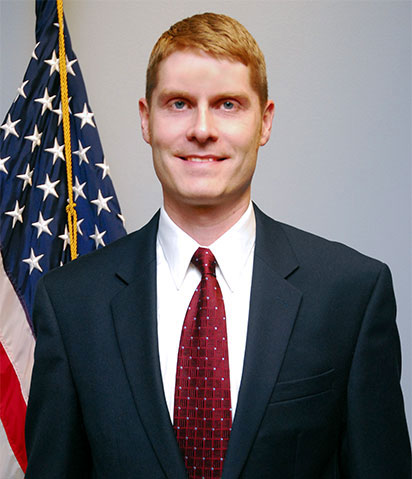 Mr. Nathan Fisher, Project Manager for Medical Robotics and Autonomous Systems with TATRC's Operational Telemedicine Lab, has been selected the TATRC Employee of the Quarter for Q2.
During this quarter, Nathan Fisher essentially created the two new Army Science & Technology Research Task areas in Medical Robotics and Medical Autonomous & Unmanned Capabilities by developing a research timeline and preparing the necessary documents for submission through the Medical Simulation and the new Army S&T Task areas. He also initiated and participated in the submission of five intramural research proposals that include: Medical Robotics - Robotic Perception for Combat Casualty Care; Medical Robotics - Telesurgical Robotic Operative Network; Medical Autonomous & Unmanned Systems – ARES Medical Missions Module; UAS Medical Research Platform Laboratory; and Artificial Intelligent Medic Assistant. This was all accomplished in a matter of weeks, which was truly an exceptional effort. If these proposals are approved for funding, they will bring TATRC approximately $6 Million in research dollars over the next 3 years. Additionally, Nathan wrote and submitted yet another P6.7 proposal aimed at integrating the Office of Naval Research's (ONR) Autonomous Aerial Cargo Utility System with the TATRC Operational Telemedicine System, and ONR's Autonomous Critical Care System for the purpose of inserting this integrated Unmanned Capability into the March 2019 Army Expeditionary Warfare Experiment at Fort Benning, GA.
During this same period, Mr. Fisher represented TATRC and USAMRMC at several high level presentations and demonstrations of TATRC's current, past and future medical robotic and autonomous systems research. These included presentations to Congressional members, the Office of the Secretary of Defense and Assistant Secretary of the Army (Acquisition, Logistics and Technology) (ASA(ALT)) representatives, NATO and other foreign visitors, as well as demonstrations at the ASAALT booth during the annual Association of the United States Army Convention. In every case, he presented the TATRC robotics story articulately, professionally, and effectively, which was a great credit to TATRC and USAMRMC.
Finally, Nathan represented the USAMRMC at the Army's Future Force Design IV workshop at the Army War College in Carlisle Barracks, PA. His contributions were instrumental in both 1) educating and informing the Army Capabilities Integration Center, U.S. Army Research, Development and Engineering Command, and AMEDD HCoE participants and the Army leadership on medical aspects of Robotics & Autonomous Systems (RAS) research as well as 2) documenting six medical mission RAS capabilities within the workshop final report and narrative.
These accomplishments and the efforts required to make them, are extraordinary and represent how dedicated Mr. Fisher is and how he truly goes above and beyond to make a difference.
Congratulations to Mr. Nathan Fisher for the well-deserved honor of being named TATRC's Employee of the Quarter!
This article was published in the April 2018 issue of the TATRC Times.