March 2019
General "Mike" Murray Tours USAMRDC and TATRC
March 31, 2019 | Download PDF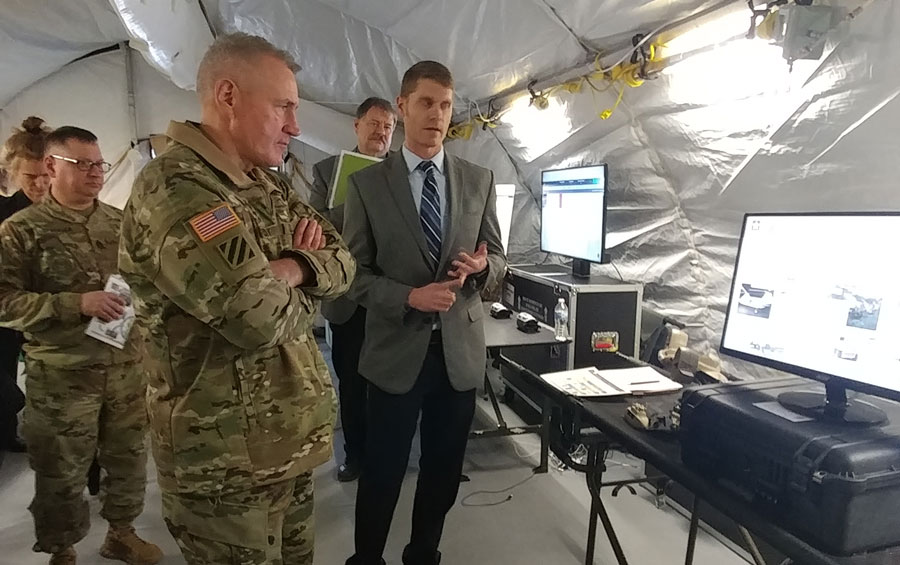 MISL Lab's Nathan Fisher (Right) briefs and highlights the research and development taking place in the field of medical robotics and unmanned systems to AFC Commander, General John Murray (3rd from left) during a VIP tour.
---
On 26 February, the U.S. Army Medical Research and Development Command (USAMRDC) had the privilege and honor of hosting General John "Mike" Murray, AFC Commander, for a demonstration, tour, and briefing of the Command, which included TATRC as one of the highlighted participants.
TATRC's Medical Intelligent Systems Lab (MISL) was front and center to discuss the initiatives and advances taking place in the area of autonomous systems. There to brief the General on the various facets of MISL's work in this field was Project Manager, Mr. Nathan Fisher.
General Murray was extremely interested and engaged in this forward-thinking future technology.
John M. "Mike" Murray is a United States Army General, the first Commanding General of U.S. Army Futures Command (AFC), a new four-star Army Command (ACOM) headquartered in downtown Austin TX under which USAMRDC now falls. General Murray was previously the G-8, deputy chief of staff to the Army Chief of Staff (CSA). He served as principal advisor to the CSA for materiel requirements, as military counterpart to the Assistant Secretary of the Army for acquisition, logistics, and technology (ASA(ALT)). Modernization reform is the focus of AFC, which means readiness for a nearer-term future.
TATRC was honored to be part of the visit with such an esteemed group of individuals within the Command, but especially grateful for the opportunity to have direct dialogue with General Murray!
This article was published in the July 2019 issue of the TATRC Times.