July 2019
TATRC Revisits Tracking Battlefield Casualty Care through Joint mHIC/MISL SBIR
July 31, 2019 | Download PDF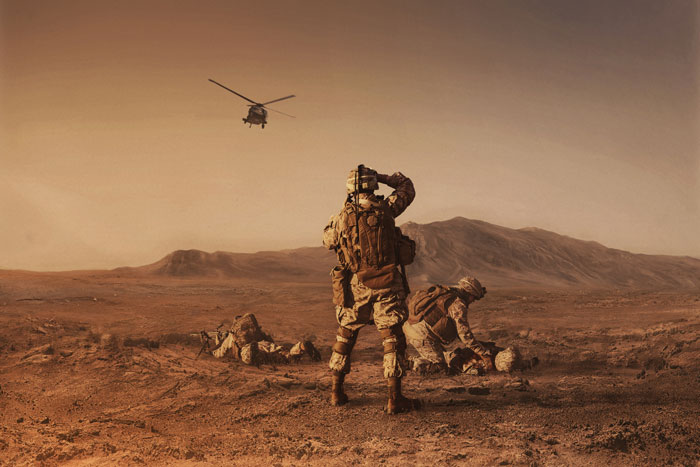 TATRC is excited to announce the launch of two new Small Business Innovation Research (SBIR) projects to address tracking combat casualty care in the pre-hospital setting. TATRC's "Patient Transportable Tactical Combat Casualty Care Capability" SBIR is aimed to finally solve a decades old problem… tracking casualty care documentation on the battlefield.
The Military Health System requires a persistent, durable, non-paper patient transportable tactical combat casualty care documentation capability for transport and transfer of medical care information into the currently fielded Department of Defense electronic health record in the absence of a reliable communications link. This technology would enable the facilitation of medical information exchange, thereby improving clinical outcomes.
Studies show that the loss of medical information in the pre-hospital environment is significant and trauma patients' outcomes are directly impacted by failures in communications. Dr. Frank Butler, Chairman, DoD Committee on Tactical Combat Casualty Care, highlighted in the Tactical Combat Casualty Care Update 2009, that less than 10% of the 30,000 casualties in Iraq and Afghanistan had any form of documentation in their records. He also further stated that only 1% of the patients have sufficient pre-hospital documentation.
During the early 2000s, with the first deployment during Operation Iraqi Freedom, the Army put significant effort into an electronic medical documentation storage capability called the Electronic Information Carrier (EIC). This electronic storage capability in SD-card format, was meant to be worn with a Soldier's dog tag, as a component of the then Theater Medical Information Program. Although the EIC concept was innovative in many ways, and won the Army's Greatest Invention Award in 2004, several problems doomed it to failure. Problems arose such as issues with the then, emerging Bluetooth technology not connecting quickly, austere environmental factors that significantly degraded the capability (e.g. corrosion of the EIC contacts), and significant cybersecurity issues with Soldiers constantly having sensitive data on them in a deployed environment, were deemed insurmountable and the "digital dog tag" program was discontinued.
With the new "Patient Transportable Tactical Combat Casualty Care Capability" SBIR, TATRC is seeking to develop a capability that will allow for the transfer of patient information through a persistent and durable mechanism that can be easily maintained with the patient. This mechanism will feature a minimal risk of loss of the information or the medium on which it is conveyed.
Two companies were awarded contracts under this SBIR. Vivonics Incorporated, of Bedford, MA was awarded for their NFC-based Persistent Access to Tactical Casualty Health (PATCH) solution. Per Senior Engineer, Dr. Ryan Myers, "Through prior involvement in combat casualty care technologies, Vivonics appreciates the need for more effective communication of casualty health information from point-of-injury through the subsequent Roles of Care. We are eager to be contributing to the solution with our PATCH system, which builds upon and complements our family of wearable point-of-injury medical systems and digital health solutions for military and civilian applications."
Additionally, Cambridge Research & Development, Inc. of Nashua, NH was awarded a contract for their point-of-care temporary tattoo printer, "Patient Transportable Tactical Combat Casualty Care Documentation Capability" concept. "We are always engaged and proud to work with TATRC on research that has the potential for positively impacting the lives of our Warfighters. Solving the TC3 problem is a perfect example of how public and private entities can work together to make immediate and direct impact," Ken Steinberg, CEO of Cambridge R&D stated. Both of the firms presented profoundly innovative and diverse approaches to getting after this problem set.
This SBIR presents the first official cross-lab intramural SBIR effort for TATRC's Mobile Health Innovation Center (mHIC) and Medical Intelligent Systems Lab. Mr. Ron Yeaw, who is the SBIR COR and the Deputy Lab Manager for the mHIC Lab, is excited about the potential these projects offer. "A definitive way to solve the tracking of combat casualty triage documentation across the continuum of care has been a holy grail of military medicine since the inception of war itself. The problem space, technology, and solution sets being offered are perfectly aligned within TATRC's wheelhouse."
All SBIR Phase 1 efforts are 6 month, $150,000 efforts. Those Phase 1 efforts that show true promise may submit for a supplemental Phase 2, two year grant worth $1,000,000. For more information about the U.S. Army SBIR program, please visit https://www.armysbir.army.mil/.
This article was published in the July 2019 issue of the TATRC Times.