September 2020
DHIC's Blast Exposure Monitoring Project Continues Development
September 30, 2020 | Download PDF
Work on the Blast Over-pressure Exposure Monitoring project continues as TATRC's Digital Health Innovation Center (DHIC) programmers are developing a weapons firing log mobile application and a web portal, known as BEMO, within the mCare / MHCE system in support of the Joint Health Risk Management Enhanced Capability Demonstration (JHRM ECD) program which is a research collaboration between Defense Health Agency (DHA), the Joint Program Executive Office for Chemical Biological Radiological and Nuclear Defense (JPEO CBRND) and U.S. Special Operations Command (USSOCOM).
The Weapons Firing Log tool, in both mobile app and web-based format, will conveniently enable operators and observers on training ranges to enter weapons firing log information into the app or the web portal, which will be matched by the MHCE BEMO web portal, with blast sensor data that is collected for those who are wearing the sensor. This data, will reside in the MHCE web portal, and can be used to assist environmental health professionals track longitudinal Warfighter exposures to blast overpressure during live fire weapons training. The data will also be transferred to and stored on Service Members' health records in Systems of Record, such as DOEHRS, or other electronic health records. In this way, the health data will follow the Service Members and can be used to inform health care providers throughout their lifetime.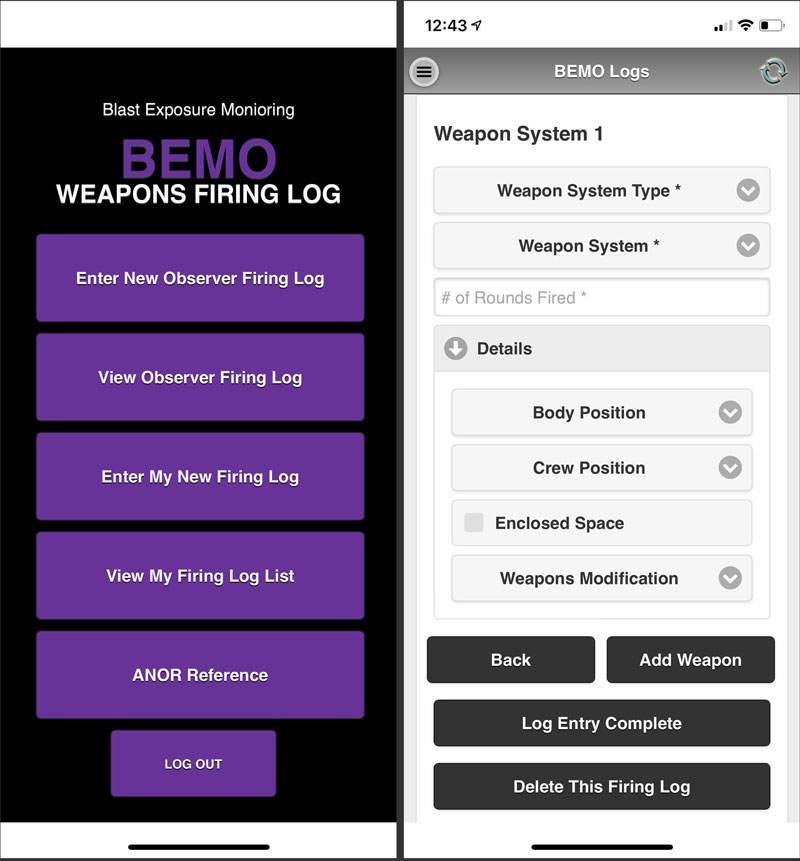 The BEMO interface where users can rapidly enter information after firing heavy weapons or explosives.
---
The DHIC team has followed the Agile Software Development methodology throughout the duration of this effort, providing Sprint Reviews consisting of product demonstrations to the key stakeholders including end users, and have received developmental feedback which has resulted in early redesign, and enhanced features while delivering a more valuable product for those we serve. This lightweight mobile capability that can be accessed and used anywhere, and at any time aligns with recent FY18, FY19 and FY20 NDAA (sections 734, 253, 717 & 742, respectively) mandating study of the effects of blast overpressure on armed Services Members and longitudinal recording of exposures.
DHIC is excited to work on this project with Adam Becker, JHRM ECD Demonstration Manager and the JHRM ECD team. Per Mr. Becker, "This project serves an important role in fulfilling our national obligation to our Warfighters by improving the documentation of individual environmental health hazard exposures, and we are glad to be working with TATRC to develop it."
This article was published in the January 2021 issue of the TATRC Times.