June 2020
TATRC's mHIC Brings the "BOOM"
June 30, 2020 | Download PDF
Known internally to TATRC as "Project BOOM," the Mobile Health Innovation Center (mHIC) team is developing a weapons firing log, mobile application and a web portal within the mCare / Mobile Health Care Environment (MHCE) system to help environmental health professionals track longitudinal Warfighter exposures to blast overpressure during live fire weapons training. The effort is in support of the Joint Health Risk Management Enhanced Capability Demonstration (JHRM ECD) program which is a research collaboration between the Defense Health Agency (DHA), the Joint Program Executive Office for Chemical Biological Radiological and Nuclear Defense (JPEO CBRND) and U.S. Special Operations Command (USSOCOM). Furthermore, the project aligns with recent FY18, FY19 and FY20 NDAA (sections 734, 253, 717 & 742, respectively) mandating a study of the effects of blast overpressure on armed services members and longitudinal recording of exposures.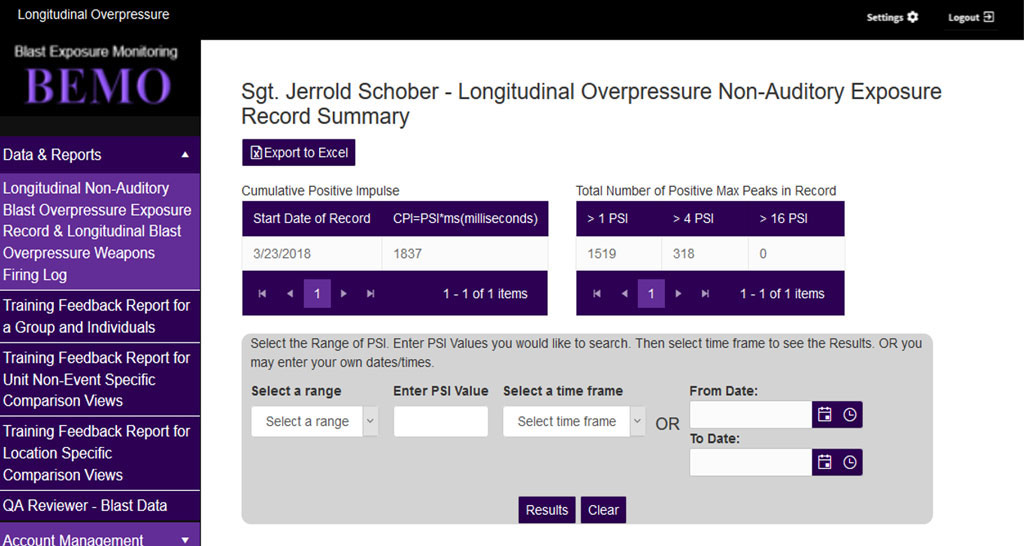 BEMO is accessible both by desktop and mobile app for iOS and Android.
---
The mCare Blast Exposure Monitoring (BEMO) Weapons Firing Log app enables an operator, or an observer of a group of operators, to rapidly record information such as weapon system, munition type, body position, and crew position after firing heavy weapons or explosives. This information, when combined with blast overpressure gauges measurements within the MHCE BEMO web portal, and provides a complete picture of blast overpressure exposures. Commanders and environmental health professionals will use this information to reduce and mitigate repetitive and potentially excessive blast overpressure exposures which may adversely affect Warfighter performance. TATRC recently received additional funding totaling $1 million to support the continued development and operational assessment by JHRM ECD.
The BEMO interface where users can rapidly enter information after firing heavy weapons or explosives.
---
This increased scope will consist of additional software programming and development and extended mHIC IM/IT support over the course of FY21 and FY22, to include a practical demonstration with up to 2,000 study participants. Features of the system will include a range of user roles for varying access to the system; the ability to create complex shot plans and firing logs within the web portal, in addition to the mobile app; blast overpressure gauge assignment and return; visualization and easy navigation of individual longitudinal exposure records; and rapid generation of training feedback reports for groups by activity and location. Project BOOM expands the capabilities of mCare and MHCE beyond the current Remote Health Monitoring (RHM) paradigm to increase its value to the Warfighter and MHS enterprise. Team mHIC is excited to work on this project with Adam Becker, JHRM ECD Demonstration Manager and the JHRM ECD team. Per Mr. Becker, "This project serves an important role in fulfilling our national obligation to our Warfighters by improving the documentation of individual environmental health hazard exposures, and we are glad to be working with TATRC to develop it."
This article was published in the October 2020 issue of the TATRC Times.