July 2019
TATRC launches New Remote Home Monitoring (RHM) Project with the BAMC Virtual Medical Center and Walter Reed
July 31, 2019 | Download PDF
This Spring, members of TATRC's Mobile Health Innovation Center (mHIC), visited both the Army's Virtual Medical Center within Brooke Army Medical Center (BAMC), in San Antonio, TX and Walter Reed National Military Medical Center (WRNMMC). Led by mHIC's Lab Manager, Ms. Jeanette Little, Ms. Tabitha Waldrop, and Mr. Nate Montgomery conducted face-to-face training for the Diabetes Remote Electronic Assisted Monitoring (DREAM) Team at BAMC on the use of the Mobile Health Care Environment (MHCE) system and secure mobile app, mCare, for remote home monitoring of patients selected to participate in the DREAM Project. mHIC Nurse, Mabel Cooper, and Help Desk Analyst, Matt Goff, led the training event at WRNMMC.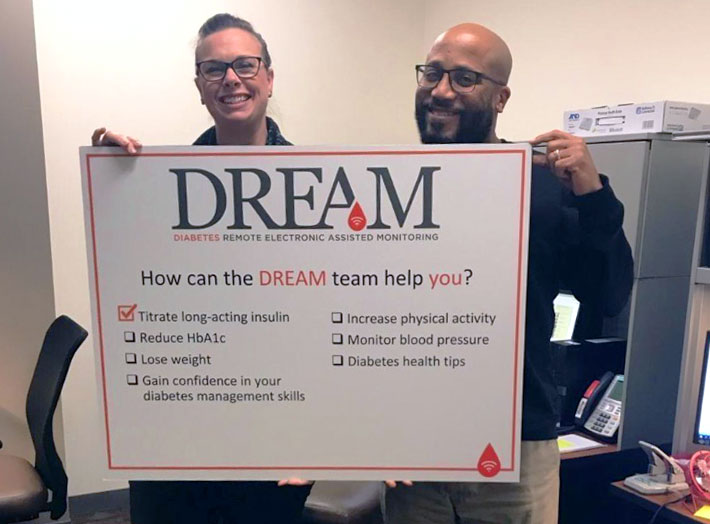 Kim Wasmuth and Delvon McDaniel, DREAM Team Members at the Diabetes Center of Excellence (DCOE), JBSA-Lackland, San Antonio, TX.
---
Ms. Jeanette Little stated, "Partnering with LTC Jennifer Stowe, Deputy for Administration at the Army Virtual Medical Center, the DREAM Project is a first of its kind, AND one of the first projects to launch for the Army Virtual Medical Center. The dynamic partnership between TATRC's mHIC and LTC Stowe's DREAM Team has fostered a cutting-edge, real-time approach to Remote Health Monitoring (RHM) to enable diabetics and their provider teams to tenaciously follow glucose readings, observe weight and blood pressure trends at-a-glance, and proactively follow nutrition and fitness progress."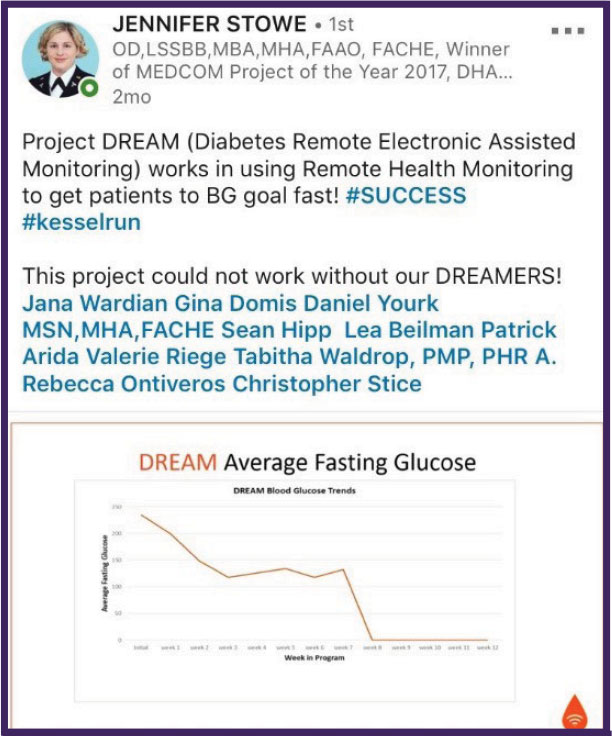 This training event focused on LTC Stowe's team, currently comprised of a research director, registered nurse and a diabetes educator. The hands-on training covered the step-by-step process for enrolling patients in the website, connecting and operating patients' Bluetooth health data recording devices to the mobile app, monitoring patients remotely though the MHCE system, and tips and techniques for success.
mHIC's mCare app was identified by the MHS Virtual Health RHM Sub- Working Group as a secure connectivity solution to enable remote monitoring of a patient's Bluetooth glucose and activity monitors securely through their personal smartphone. The overall impact of 1) health tips that are intentionally and systematically delivered, 2) alerts that are auto generated just-in-time based on individualized parameters; and 3) direct messages from provider teams is a vigilant approach to patients on the path to a more prudent lifestyle for improved health, and a provider team that conducts individualized treatment for enhanced successful patient outcomes.
The DREAM Project is innovative, and impactful, and the results have been immediate! Within the first seven weeks of launching, all patients enrolled in the DREAM project recorded glucose readings within their defined ranges. Some of the original research in this project dates back to an AAMTI funded endocrinology project, also managed by TATRC's mHIC team.
This article was published in the July 2019 issue of the TATRC Times.