June 2019
TATRC Hosts Prolonged Field Care Demonstration with Madigan Partners
June 28, 2019 | Download PDF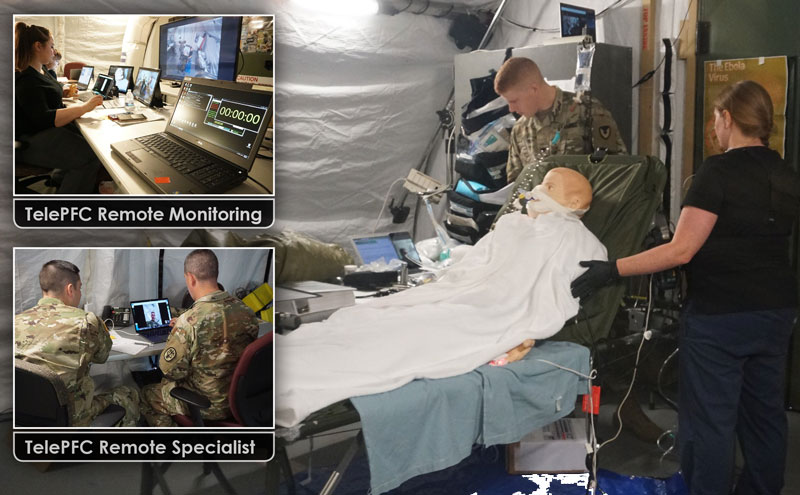 TelePFC Medic Team supported by TelePFC Remote Monitoring and TelePFC Remote Specialist.
---
On 21 May, TATRC had the pleasure of hosting a talented team of individuals from Madigan Army Medical Center's Telemedical Research for Operational Support (TR4OS), who, along with TATRC Director COL Jeremy Pamplin, carried out a demonstration of telementoring capabilities for prolonged field care (PFC). The 2-day event took place in TATRC's outdoor simulated field environment. It allowed for our colleagues within the command to see firsthand the capabilities telementoring provides and the value of high fidelity simulation for prolonged field care training.
Featuring a field medic attending to a patient, guided by a remote expert, the event consisted of a scenario which covered the entire spectrum from full, comprehensive telementoring with video and audio relay, to zero connectivity wherein the medic had to rely on a hardcopy of the clinical practice guidelines. Each situation holds unique importance for testing the abilities of a novice provider responding to an unfamiliar scenario in an austere environment. The purpose of this event was to demonstrate a controlled laboratory and validated clinical testing model to the study sponsor, potential transition partners, and simulation training leaders.
Katy Cohen, Research Nurse and proctor for the event, stressed the importance of simulations like these, stating, "It's unique to let the medic react to the scenario as it unfolds, operating in real-time while also having a proctor who's tailoring the situation to the subject."
During the exercise, TATRC Director COL Jeremy Pamplin had the opportunity to brief a multitude of attendees on the importance and value of TelePFC, including MRDC's then Commanding General, MG Barbara Holcomb, as well as Command Sergeant Major Timothy Sprunger. The event was a resounding success and a great step forward for this innovative technology.
TATRC is in the beginning stages of developing our own in-house clinical simulation exercises, and the opportunity to see how far the Madigan TR4OS Team has come in their own efforts was inspiring. Simulation at this level, in real-time, is incredibly complex as every possible choice, and action of the subject (e.g. the medic) has to be accounted for ahead of time. According to TATRC's Director COL Jeremy Pamplin, "PFC training is HARD because the care complexity is HIGH and becomes more cognitively challenging as time marches forward. Developing this type of laboratory environment is part of the intent behind the TATRC alignment with USAMMDA."
Further down the line, the team looks to expand the platform to provide full-scale, plug-and-play training for all roles in the process, where all parts are interchangeable, including devices, personnel, and environments.
The benefits of these types of exercises are numerous and invaluable, according to LTC Chris Colombo, MD, the project's Principal Investigator. From efficiency and cost savings, to providing a better understanding of resource allocation and personnel training, these exercises allow for a deeper understanding and evaluation of exactly which methods and techniques can result in maximum readiness and potency.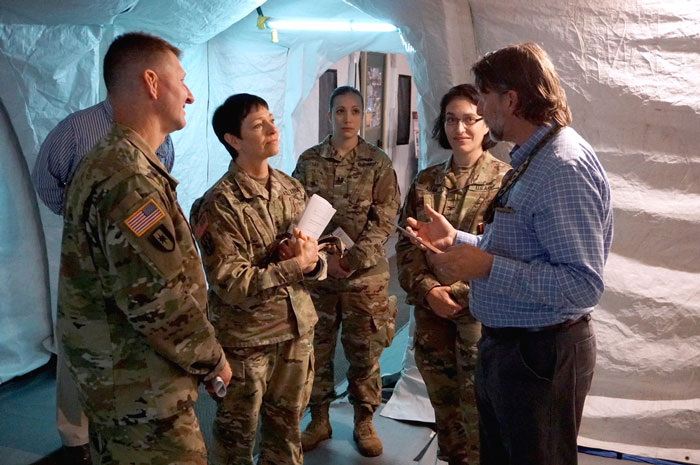 MMSV Research Scientist, Mr. Geoff Miller briefs USAMRDC Leadership during the TelePFC demo on 21 May.
LTC Colombo stated, "In an ideal world, you'd have a specialist on-hand to train every medic face-to-face. We are changing the notion of how to extend resources to where they were previously unavailable. We believe we can tip that balance by placing an additional resource in the room, via telemedicine, allowing the trainee to handle a situation that would otherwise be outside their scope."
Overall, the team considered the event an important step forward and a key to opening doors for future development. 1SG (Ret.) Kevin Ross, Project Manager, emphasized the value of the exercise, noting, "it's not always possible to include both the technology and the end-user, with their own unique set of requirements, in the same training event. Exercises like these work to show that high-quality training can be viable even without the ability to work face-to-face with a subject matter expert."
"Here we had a future leader of other medics, and he hadn't touched a patient up until this training. Not because he didn't want to, but because proximity is important to the ability to access training. I think what we did here is help to change the perspective of how training can be accessed and the value of research, and the more we can do that, the better we can help develop the Army's training curriculum."
TATRC staff and MAMC's TR4OS team pose for a group photo after the TelePFC demo.
TATRC is proud and grateful to the TR4OS team at JBLM for their partnership and expertise, which helped make this event a resounding success. We look forward to further collaborations in the name of advancing prolonged field care.
This article was published in the November 2019 issue of the TATRC Times.