June 2018
TATRC's JMedSIM Initiative is Off and Running
June 29, 2018 | Download PDF
During a tour of USU's Val G. Hemming Simulation Center, team members experienced a virtual reality game created specifically for simulation training.
---
Two of TATRC's Labs recently joined forces to kick off the Joint Medical Simulation Instructional Methods (JMedSIM) initiative. The Medical Modeling Simulation & Visualization (MMSV) team, along with key members of the Health Technology Innovation Center (HTIC), are actively collaborating with the J7 for the Defense Health Agency to provide not only a web application, but also to create standardized content to help assist operators and educators at medical simulation centers. This effort will become the JMedSIM and JMedSIM Portal.
The efficacy of healthcare simulation activities for learners depends on the knowledge and skill of the instructor and the simulation operations specialist. Most instructors/operators have on-the-job training and a few have attended civilian courses in healthcare simulation. Due to frequent turnover of staff, this project will produce a series of comprehensive simulation instructor/operator courses that can be delivered to most personnel who are responsible for conducting simulation based medical training and healthcare education.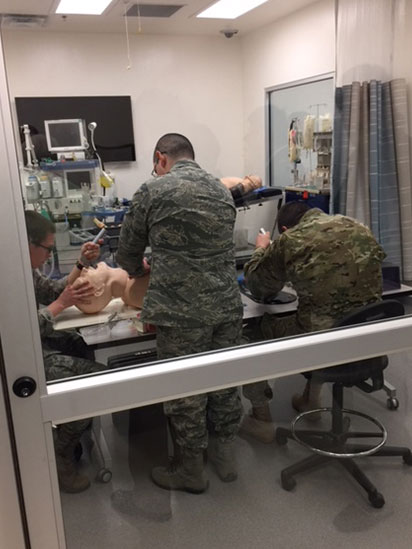 A joint team was convened in February to begin defining the requirements for the portal. TATRC, using an Agile Project Management Framework, facilitated the discussions to elicit user stories that would be used to plan and build out the portal. The team actively engaged in this meeting by separating out the differences between the portal for the Medical Simulation Operations staff and the learning management system for end users. The team agreed that the portal would be a secure, sharable, searchable database of simulation materials to create sharable simulation resource materials for use across the Military Health Sysytem using metadata standards. TATRC's HTIC development team is currently working on this portal, and will have an early demonstration ready for the JMedSIM Working Group to review early this summer.
The JMedSIM team, led by Mr. Geoffrey Miller from TATRC's MMSV, reconvened the group at large in San Antonio, TX for several days in April to define a standardized course outline for a foundations course, an operator's course and an environment/equipment course. This joint, tri-service team will use the outlines to further develop the content during the upcoming months with multi-media A/V support provided by TATRC. While the April meeting concentrated on the simulation centers operations, a June meeting focused on course content for medical simulation educators.
Over the course of the three-day meeting, stakeholders gathered to collaborate on the development of the Portal. The working group defined portal requirements and met to discuss the simulation scenario template, role-based functionalities, and established what common lexicons will be used.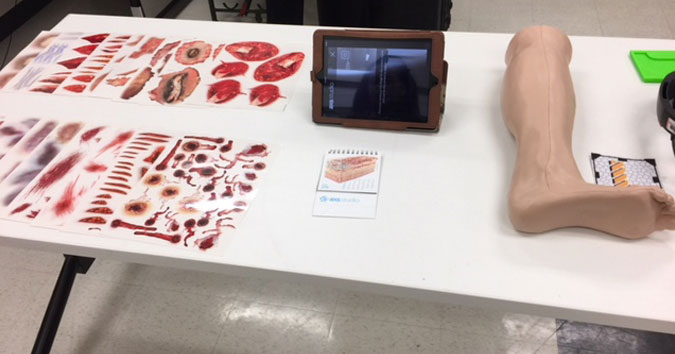 Different examples of moulage tattoos that could be used for various training scenarios.
Future, subsequent meetings will continue throughout the summer focusing on continuous portal development and feedback, as well as refining and finalizing course content.
Ruben Garza, Director of Defense Medical Modeling & Simulation Office (J7) stated, "On behalf of DHA Education & Training (J7), sponsoring this JMedSIM effort will provide the necessary support to our MHS operators and instructors. This much needed effort will enable, from our novice personnel to perform basic training simulation modalities, to our experienced personnel by enhancing medical training. JMedSIM will provide basic, intermediate and advanced, on-line or in-person courses. We're excited that this new effort lies with TATRC and look forward to partnering with TATRC's dynamic team."  
This article was published in the June 2018 issue of the TATRC Times.