April 2018
TATRC Participates in World's Largest Medical Simulation Conference
April 13, 2018 | Download PDF
---
All eyes were on Mr. Jamie Hyneman as he walked onto the stage at the 2018 International Meeting on Simulation in Healthcare (IMSH) conference in Los Angeles, CA, 13-17 January. Mr. Hyneman is the legendary producer and host of the Discovery Channel's wildly popular show, MythBusters, who served as the opening keynote speaker at this year's event. He was greeted onstage by Dr. Dan Raemer, founding Society for Simulation in Healthcare (SSiH) member and host for this live interview. It's not every day that one gets to listen to a man who questions myths and urban legends and conducts live, and sometimes risky experiments to prove (or disprove) them. Many don't know, however, that Jamie developed a medical simulation prototype that became the Multiple Amputation Trauma Trainer, managed by the U.S. Army Research, Development and Engineering Command's Simulation Training & Technology Center in Orlando.
The IMSH conference is the world's largest healthcare simulation event sponsored by the SSiH. The theme for this year's conference was "Making the Impossible POSSIBLE." Approximately 2,600 people attended from over 65 countries. Both large plenary sessions and small, interactive immersive courses were offered and the exhibit hall featured more than 100 organizations from ten countries.
Each year TATRC staff, as well as many other DoD healthcare personnel and medical simulation managers attend this conference because of the unique education and training opportunities that the IMSH provides in support of the mission of the Defense Health Agency. One key to developing and maintaining a medically ready force is effective training, from first responders through fixed facility healthcare providers. The Military Health System needs healthcare providers who are up-to-date on the most effective teaching and training strategies. IMSH's educational sessions added value to DoD attendees in many mission-relevant areas (e.g., leadership, learning theory, instructional methods, technical operations, assessment and outcomes, program administration, certification, and research and development).
For almost fifteen years, the TATRC team has demonstrated an integral leadership role at the IMSH. This year, Mr. Geoff Miller, Research Scientist and Lab Manager of TATRC's Medical Modeling & Simulation Innovation Center (MMSIC), along with Mr. Harvey Magee, Technical Director, MMSIC, planned and executed two of four special events for the DoD.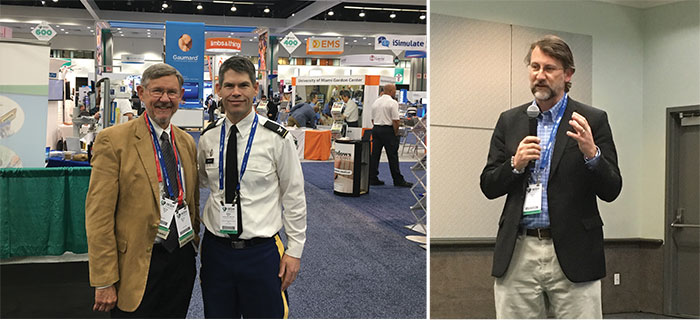 LEFT PHOTO: Harvey Magee with COL Jeffrey Mikita of Walter Reed National Military Medical Center at the IMSH DoD Government Row Exhibit Area. RIGHT PHOTO: Mr. Geoff Miller, MMSIC Lab Manager, kicked off and chaired the DoD Academic Program at this year's IMSH.
Mr. Miller planned and chaired the DoD Academic Program, which provided seven presentations in total. Mr. Miller was also one of the opening plenaries for the Modeling & Simulation forum at the conference this year. Mr. Magee facilitated the DoD's "Government Row," which was an interactive exhibit area. Sixteen DoD-funded Research & Development prototypes were exhibited by government, academic, and industry organizations, based on recommendations from various government managers. This exhibit fostered innovative dialogue among healthcare professionals from around the world. Colleagues and strangers alike discussed their perspectives about groundbreaking state-of-the-art ideas, research approaches, challenges, and opportunities for collaboration. Dr. Darrin Frye, Portfolio Manager for Medical Simulation and Training Technologies at Joint Program Committee-1, stated "This was my first time at IMSH, and it was an impressive experience to meet all the dedicated investigators and very rewarding to see and feel the tangible results of their countless hours of innovative research and developmental efforts."
Another featured event was the 8th Annual Serious Games & Virtual Environments Showcase and Arcade, an annual competition for new developments in medical simulation. The "Best in Show" was awarded to the Perceptive Patient project. Dr. Thomas Talbot, the Principal Investigator and one of TATRC's alumni, demonstrated an early version of the Perceptive technology at both the VR Showcase and the TATRC-organized "Government Row." The Perceptive Patient employs multisensory artificial intelligence in a new way that provides physicians teaching moments on bedside manner and patient trust.
On 16 January, almost 50 people attended the Federal Affinity group meeting, chaired by COL Jeffrey Mikita of Walter Reed National Military Medical Center. Informative updates, areas of shared interest and focus, and future opportunities were provided by simulation leaders in the Defense Health Agency, Army, Navy, and Air Force, Uniformed Services University (USU), as well as the Veterans Administration. Dr. Joseph Lopreiato, Director, Val G. Hemming Simulation Center, USU, and the 2018 President of the SSiH, provided an update, including the "Healthcare Modeling & Simulation Certificate" program (https://movesinstitute.org/healthcare) and USU's Master of Health Professions Education program.
Mr. Harvey Magee, MMSIC Technical Director noted that "IMSH '18 was high-value, both for exhibitors and hundreds of attendees. Most attendees had no idea the DoD was leading the Nation in Medical Modeling & Simulation Research & Development. The conference was high energy and high value, and the IMSH leadership was fantastic in its support for participation by the DoD!" The next IMSH meeting will be held in San Antonio, Texas, from 26-30 January 2019.
This article was published in the April 2018 issue of the TATRC Times.