March 2019
MMSV Lab Collects Key Data in Augmented Reality Forward Surgical Care Capstone Event
March 31, 2019 | Download PDF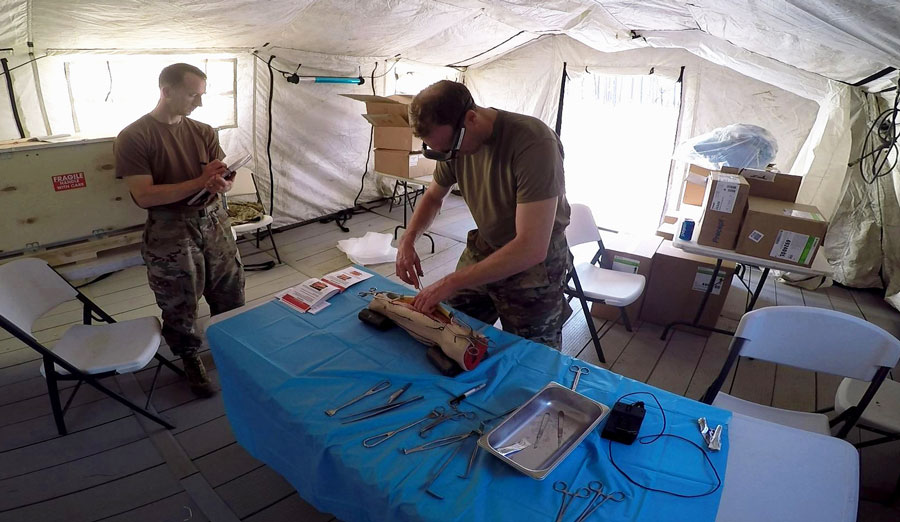 Non-surgical provider using augmented reality glasses to perform a 4 compartment fasciotomy.
---
In February, TATRC's Medical Modeling, Simulation and Visualization (MMSV) lab hit the road and traveled down to Fort Bragg to take part in a Capstone event for the Augmented Reality Forward Surgical Care project, funded through the AMEDD Advanced Medical Technology Initiative's Extended Innovation Funding. This project, which was done in collaborative partnership with the U.S. Army Special Operations Command's Womack Army Medical Center and vendor, BioMojo, aimed to integrate augmented reality headwear into prolonged field care. The augmented reality will provide surgeons the ability to telestrate to non-surgeons in an effort to perform lifesaving procedures.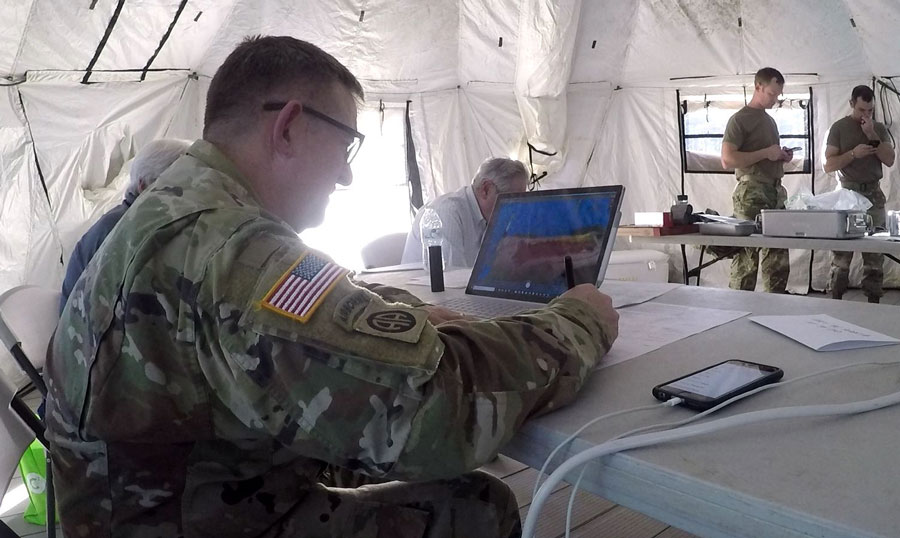 This important research was due to the realization that the Army has a lack of surgeons available to perform in traumatic events likely to be seen in a war zone. With the help of a strong training curriculum for non-surgeons in these procedures, as well as a surgeon able to telestrate necessary information onto the body of the injured, large strides can be made to increase the readiness of our medical professionals. Mr. Geoffrey Miller, Lab Manager of MMSV, stated, "providing these types of advanced, augmented reality tools to improve care is vitally important to the success of the Army's mission."
Mr. Geoffrey Miller was accompanied by Ms. Ollie Gray, Project Manager, and Mr. Jimmy Gaudaen, Project Officer. They were heavily involved with running the assessments for the event, and are currently analyzing all the data collected. Some of this information included usability testing from end users on how well the glasses benefited the non-surgeon during the simulated scenarios. Once everything is analyzed, the MMSV team will make recommendations for improvements to the design of the augmented reality glasses to best support military medical professionals in the field. The project also aims to demonstrate that the telestration process and training curriculum used in this exercise provides non-surgeons the ability to provide care equal to that of what a surgeon would be able to do in similar real world scenarios.
This article was published in the July 2019 issue of the TATRC Times.