April 2018
Team Fitness Tracker Study Enrollment Grows to Nearly 300 Volunteers!
April 13, 2018 | Download PDF
---
Key staff from TATRC's HTIC travelled to the Florida Army National Guard Headquarters and Headquarters Company (HHC), 53rd Support Battalion, Infantry Brigade Combat Team (IBCT), in Pinellas Park, Florida, from 9 - 11 February to enroll 96 additional volunteers into the TATRC Team Fitness Tracker Study. Ms. Ollie Gray, HTIC's Lab Manager and Principal Investigator for the project, briefed the aims of the research study to interested members, and individually met with each volunteer to obtain their written consent per the Uniformed Services University Institutional Review Board protocol. Ms. Gray was accompanied by key members of her team, Mr. Robert Connors and Ms. Stephanie Hutson, who assisted with Fitbit and Garmin activity tracker assignment, inventory control, and other related logistics.
To date, TATRC has enrolled 296 Army National Guard (ARNG) volunteers into the Team Fitness Tracker study. In addition to the HHC 53rd, TATRC has enrolled 21 members of an ARNG remedial fitness group at Camp Blanding, Florida; 107 members of the Air National Guard 192nd Fighter Wing, Langley AFB, VA; and 72 members of the ARNG, Maryland, 410th Hospital Center (HC). HHC 53rd members will use their Fitbit or Garmin activity trackers for 30 days with access to the Fitbit and Garmin manufacturer portals, and then access the TATRC Team Fitness Tracker Application on 12 March 2018.
ARNG units are particularly interested in the capabilities of the TATRC Team Fitness Tracker portal, given that their members drill only once a month, have other jobs, and may not exercise as frequently as their full time active duty counter-parts. The Army projects increased ARNG deployments in the future, so it is critical that ARNG members stay fit.
As a matter of background, "The Florida Army National Guard, is a component of the Army National Guard. The Army National Guard's federal mission is to maintain well-trained, well-equipped combat units available for prompt mobilization during federal military operations."
The Team Fitness Tracker Research Study was funded by Joint Program Committee-1, Medical Simulation and Information Sciences. TATRC's HTIC Lab developed the Team Fitness Tracker to study whether members who used activity trackers, in combination with a corporate dashboard reporting group activity and competitions, could sustain activity levels, improve body measurements, and increase physical readiness test scores, contributing to increased ability to deploy. The TATRC Team Fitness application provides a means for units to engage in friendly competition amongst members, receipt of virtual awards, and a progress map simulating a walk across the U.S. The Team Fitness Tracker application also supports members by providing validated exercise routines, nutrition, and sleep information. It also provides team group views to help Master Fitness Trainers manage and motivate groups. While unit Commanders do not have access to individual member's data, the software will provide the capability to produce reports that analyze overall team fitness and thus, readiness. TATRC has partnered with the Uniformed Services University of Health Sciences (USUHS), Consortium for Health and Military Performance (CHAMP) for this research. CHAMP will be analyzing the data in relation to the study hypotheses.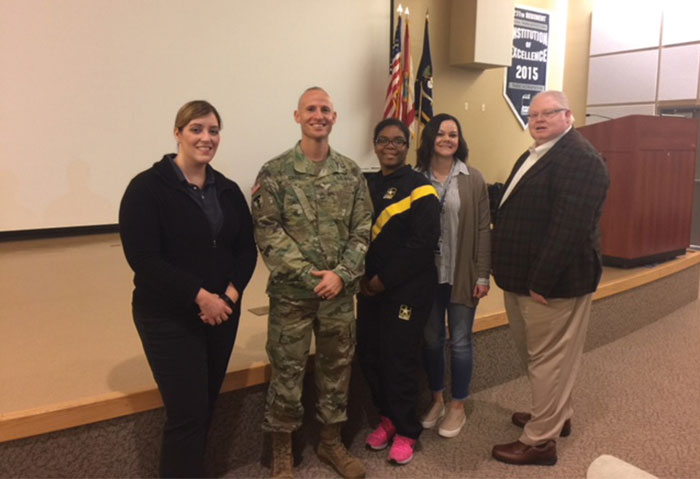 TATRC and USU CHAMP Team with Army National Guard, Camp Blanding, Remedial Group Leaders During Recent Team Fitness Tracker Deployment (From left to right: Ms. Ashleigh Simon, SFC Robert J. Eads, USA, Unknown, Ms. Stephanie Hutson, Mr. Robert Connors)
What is unique about the Team Fitness Tracker application is its ability to provide an enterprise consolidation of tracker data from different manufacturers. This allows unit members who wear different manufacturer's activity trackers (such as Fitbit and Garmin) to challenge each other, unlike the Fitbit and Garmin manufacturer activity portals, who only allow Fitbit users to challenge Fitbit users, and Garmin users to challenge Garmin users. The TATRC Team Tracker application uses a third party application from Validic to consolidate cross-manufacturer activity tracker data. While Validic supports over 400 different types of activity trackers and other home medical devices, for the purpose of the study and due to licensing arrangements, the TATRC study only is comparing two types of manufacturer devices.
Due to recent potential safety concerns caused by the GPS tracking on activity trackers, TATRC is advising members who deploy to remote, isolated areas to turn in their devices prior to deployment. An official policy on the use of these trackers is pending the Department of Defense Chief Information Officer decision.
Ms. Ollie Gray stated, "It is exciting that what started as an internal TATRC challenge, is now being used to promote healthy behaviors for our Service Members. We are looking forward to the results and the potential for continued use of the Team Fitness Tracker by not only our Service Members, but all beneficiaries."
This article was published in the April 2018 issue of the TATRC Times.