September 2020
TATRC's BHSAI 2B Alert App Named MRDC Invention of the Year!
September 30, 2020 | Download PDF
A big Congratulations is in order for one of TATRC's premier labs led by Dr. Jaques Reifman, SES and Director for the Biotechnology High Performance Computing Software Applications Institute (BHSAI). 2B Alert, a fatigue-management artificial intelligence (AI) tool, and a software system that aims to counteract the negative effects of sleep deprivation and fatigue, was officially awarded and recognized as the USAMRDC's Invention of the Year.
Dr. Jaques Reifman has led this initiative since the project's inception and was presented with a Department of the Army Certificate of Achievement by COL Jeremy Pamplin, TATRC's Director, via a virtual awards ceremony on 3 September. The Certificate of Achievement was signed by our Commanding General, BG Michael J. Talley.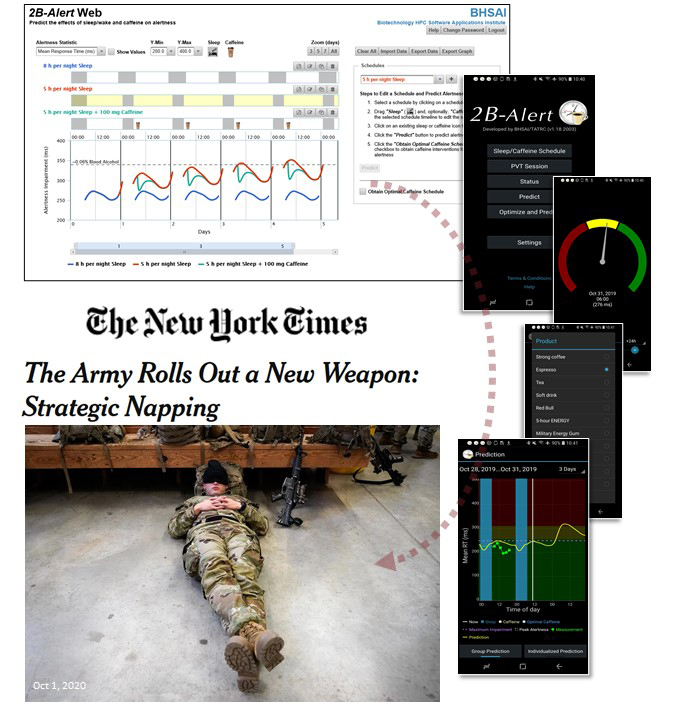 2B-Alert Web tool for optimizing sleep underlies a New York Times story on Army's new Holistic Health and Fitness approach.
---
A product of more than ten years of research and development, the 2B-Alert smartphone tool was originally conceived by Reifman's team and additional researchers at the USAMRDC Walter Reed Army Institute of Research (WRAIR). The tool is essentially a bio-mathematical model that uses AI to automatically learn how an individual responds to sleep deprivation – that is, less than seven to eight hours of sleep per night – and then provides countermeasure recommendations customized for that specific individual to reduce or eliminate cognitive deficits caused by that very sleep deprivation. The user can also query the tool for recommendations that lead to heightened alertness during a specific time of the day, such as during a test or military activities requiring increased vigilance. The 2B-Alert tool is available for iPhone and Android smartphones. This effort could both dramatically improve alertness levels and decrease accident and injury levels for Service Members worldwide.
Dr. Reifman was assisted and supported by two other key members of the team on the development side of this app and those personnel were also recognized. Dr. Francisco G. Vital-Lopez, a Research Scientist and support contractor for the Henry M. Jackson Foundation at TATRC's BHSAI, developed the algorithm for optimizing the use of caffeine, and invented a unique approach that identified such optimal caffeine doses instantaneously, opening the door for smart implementations on the 2B-Alert project. Mr. Luke Hartman, a Software Developer and support contractor for the Henry M. Jackson Foundation at TATRC's BHSAI, implemented this very complex algorithm in both Android and iPhone operating systems, enabling commercialization of the 2B-Alert technology. Due to the current pandemic, Dr. Reifman accepted the Certificates of Recognition on behalf of both Dr. Vital-Lopez and Mr. Hartman during the 3 September virtual ceremony.
"It is gratifying to see the research efforts of numerous individuals across many years culminate in a product that will be useful for both the military and the general public, and which promises to increase Warfighter Readiness on a wide scale," said Dr. Jaques Reifman.
Team TATRC is proud of the accomplishments of our colleagues at BHSAI and honored to work with such an esteemed and exemplary group of high performance computing thinkers!
This article was published in the January 2021 issue of the TATRC Times.