December 2019
BHSAI Licenses the 2B-Alert Fatigue-Management AI Tool for Commercial Development
December 31, 2019 | Download PDF
If you've been reading the TATRC Times for some time now, chances are you have heard of Dr. Jaques Reifman, Director of the Biotechnology High Performance Computing Software Applications Institute (BHSAI) here at TATRC. Dr. Reifman is once again making big waves with the licensing of his 2B-Alert fatigue-management AI tool.
Sleep deprivation is a universal challenge faced by nearly all Service Members, especially during military operations. It can lead to accidents and catastrophic mission failures. The ability to predict future alertness levels and recommend effective measures to improve cognitive performance can reduce or prevent accidents and injury.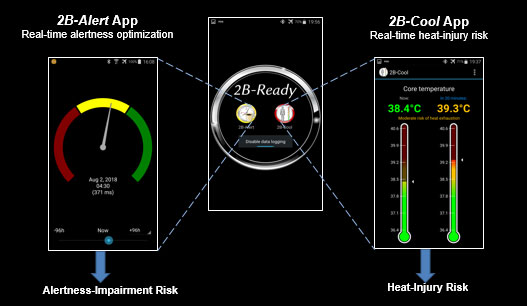 ---
Over the past 10 years, Dr. Reifman and his team of BHSAI researchers synthesized data from decades of sleep research collected by collaborators at the Walter Reed Army Institute of Research (WRAIR) and developed a biomathematical model that predicts how various sleep-deprivation conditions affect alertness. Recently, they integrated the model with an AI algorithm that learns how each individual responds to sleep deprivation and generates customized alertness predictions, as well as an algorithm that quickly discovers the best countermeasures to reduce alertness impairments at the desired times and durations.
In collaboration with WRAIR scientists, the BHSAI team has implemented the model and algorithms in two decision tools. The first, 2B-Alert Web, is a PC-based application that allows users, especially mission planners and work schedulers, to predict how sleep-wake schedules and alertness-improving measures affect cognitive performance for a group of individuals. The second, 2B-Alert App, is a smartphone AI application that allows individual users to monitor their own alertness levels and generate personalized alertness-enhancing recommendations based on their prior sleep-wake schedules.
Having established a mature 2B-Alert technology, the next step was to license it. To do so, the BHSAI team worked directly with the Medical Technology Transfer (MTT) office, which is USAMRDC's enterprise-wide Technology Transfer Office led by Dr. Paul Michaels. MTT identifies intellectual property that has the potential for licensing to industry, performs outreach to potential licensees and Research & Development (R&D) collaborators, and negotiates the licenses for USAMRDC's patents and other intellectual property.
C. Blake Sajonia, the MTT agent assigned to license the 2B-Alert tool, worked directly with Dr. Reifman and Mr. Quinton King, a licensing professional from TechLink (a DoD Technology Transfer Partnership Intermediary), to develop and execute a licensing strategy. His challenge was to ensure that USAMRDC remained the holder of the model and algorithms while retaining the benefit of one or more companies commercializing a software product.
Working through several iterations of the Patent License Agreement (PLA) and the Cooperative Research and Development Agreement (CRADA) to address business, legal, and technical issues, Mr. Sajonia achieved a mutually acceptable pair of agreements by linking the PLA with the CRADA, through which the company would have access to software upgrades and subject matter expertise. The resulting non-exclusive PLA and CRADA were executed with Integrated Safety Support, a company focused on fatigue training, analysis, and management, as well as solutions that enhance future workforces.
These developments place the 2B-Alert tool at the stage of technology transfer (T2)–a step that helps realize the full benefits of our nation's R&D investment in funding federal laboratories and is thus vital to our economy and national security. "T2 for the Army is important because it encourages and enables companies to produce commercial products that can benefit both the public in civilian applications and be purchased by the military for use. Such products often result in significant cost savings to the military because of the broader customer base that dual-use (civilian and military) products have over purely military products," said Dr. Paul Michaels, Director of the MTT office.
"It is gratifying to see the research efforts of numerous individuals across many years culminate in a product that will be useful for both the military and the general public, and which promises to increase Warfighter Readiness on a wide scale," said Dr. Reifman, at the prospect of working with Dr. Adam Fletcher, CEO and Principal Consultant of Integrated Safety Support. Given the potential of commercial partners to add improvements and features to new technologies to create value-added products, the possibilities for a new generation of scientifically validated fatigue-management devices seem limitless.
This article was published in the July 2020 issue of the TATRC Times.