December 2019
BHSAI Uses Simulations to Identify the Molecular Basis of Antibody Neutralization in Dengue Virus
December 31, 2019 | Download PDF
Dengue fever is a mosquito-borne illness that is endemic to large parts of South America, Africa, and Asia, and is continuing to spread, along with related viruses such as yellow fever and Zika virus, due to climate change. Localized outbreaks of dengue fever can have a crippling impact on Force Readiness, and the U.S. Army has long prioritized the development of vaccines or therapeutics that can protect Service Members stationed in regions of the world where dengue is endemic.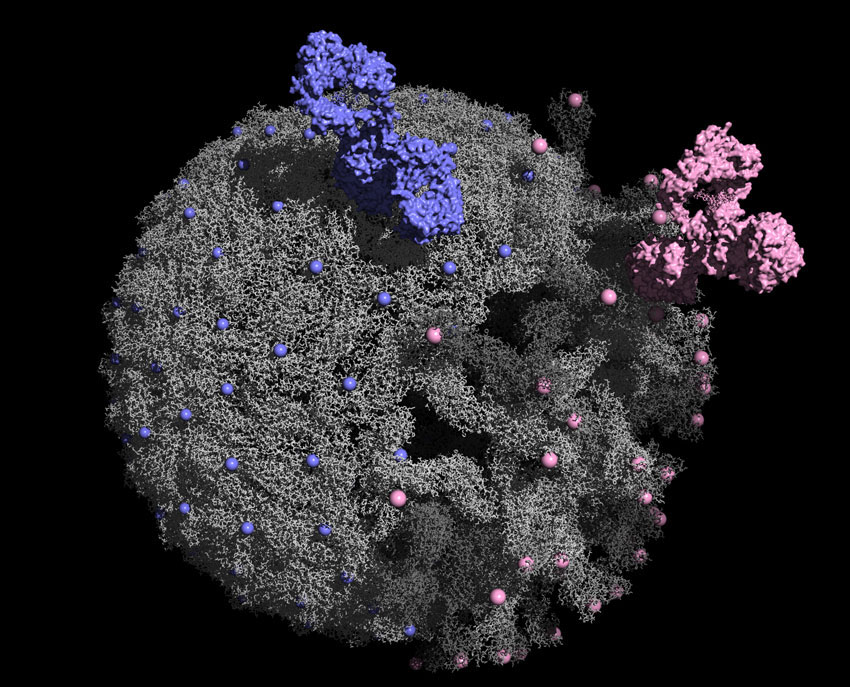 Atomic model of a partially mature dengue virus particle interacting with a type-specific (blue) and a cross-reactive (pink) antibody shown using a surface representation. The mature (smooth) regions of the virus are shown at left, whereas the immature (rough) portion is located towards the lower right. The small, blue and pink spheres indicate the location of epitopes targeted by the type-specific and cross-reactive antibodies.
---
Dengue virus exists as one of four types, or serotypes, that co-circulate in the same geographical region. A defining feature of the virus is that while exposure to one serotype induces lifelong immunity to that serotype, that same immunity actually increases the likelihood of severe dengue disease following subsequent exposure to one of the other three serotypes. In a process known as antibody-dependent enhancement of infection, or ADE, antibodies induced by the earlier dengue infection enhance the severity of a subsequent infection. Researchers have investigated ADE for years in experimental settings, and more recently in clinical studies on dengue pathogenesis. However, the relevance of ADE to dengue vaccine research was unknown until the stunning finding in a recent Phase 4 study of Dengvaxia, a dengue vaccine produced by Sanofi-Pasteur Inc., where some vaccine recipients showed higher rates of severe dengue disease following vaccination than subjects who had not received the vaccine, suggesting that the vaccine may be triggering the ADE process.
Why do some antibodies neutralize dengue virus whereas others enhance infection? To answer this question, researchers at TATRC's Biotechnology High Performance Computing Software Applications Institute (BHSAI) turned to molecular simulations guided by in vitro data to provide insight into virus neutralization and enhancement. By modeling antibodies that are well characterized in vitro, Dr. Daniel Ripoll, a research scientist at the BHSAI, was able to show how some mixtures of antibodies neutralize dengue virus with varying efficacy while others enhance infection. "Our simulations show that ADE is dependent on the epitope specificity of the antibody response," explained Dr. Ripoll. "Some antibody mixtures target predominantly cross-reactive, poorly neutralizing epitopes and lead to ADE under a wide range of conditions." The simulations reveal that antibodies typically found following secondary infections have a much higher propensity for ADE than those produced in response to the initial infection, providing a molecular basis for enhanced risk of severe dengue disease. Dr. Ripoll's findings were recently published in the journal, Frontiers in Cellular Infection Microbiology.
BHSAI's research efforts into dengue vaccines continues in FY20, in the form of collaboration with Dr. Adam Waickman and Dr. Heather Friberg-Robertson at the Walter Reed Army Institute of Research. There, BHSAI scientists will apply sequencing, modeling, and simulation methods to analyze immune responses from two Army dengue vaccine candidates: the Purified Inactivated Virus and the Live-Attenuated Virus. Dr. Sid Chaudhury from the BHSAI stated, "By combining extensive profiling of the immune responses from clinical studies with computational modeling, we aim to understand exactly what immune responses are being elicited by these vaccines and how they contribute to protection."
This article was published in the July 2020 issue of the TATRC Times.