September 2019
BHSAI's Research of Finite-Element Models Help Us Understand Blast-Induced Brain Injuries
September 30, 2019 | Download PDF
Exposure to improvised explosive devices (IEDs) can result in various types of traumatic brain injury (TBI), ranging from mild concussions to severe penetrating injuries. Of the more than 350,000 Service members diagnosed with TBI since 2000, 82% are classified as mild TBI [1], which shows normal structural brain imaging but can lead to lasting behavioral and cognitive deficits. Many factors can contribute to mild TBI, such as blunt trauma to the head. What is unclear, however, is whether the mere interaction of blast waves from IEDs with the body can also contribute to brain injury, leading to non-impact, primary blast-induced TBI. In the absence of human studies of blast-induced TBI, which are unfeasible, animal models can advance our understanding of this injury by clarifying whether blast waves damage brain tissues and, if so, how. To address the latter issue in detail, however, we also need to complement this approach with accurate high-fidelity computational models of animal brains. To inform the development of such models, we performed high-stain-rate testing of brain tissues and cerebral vasculature tissues from rats [2]. Using this new information, along with an explicit representation of the cerebral vasculature, we recently developed a three-dimensional (3-D) high-fidelity finite-element (FE) rat-head model and validated its predictions with data from rats exposed to a blast wave in a shock tube [3]. The model, whose blast-induced brain responses are sensitive to the properties of brain tissues and cerebral vasculature, will ultimately help us understand the potential injuries that underlie non-impact, primary blast-induced TBI.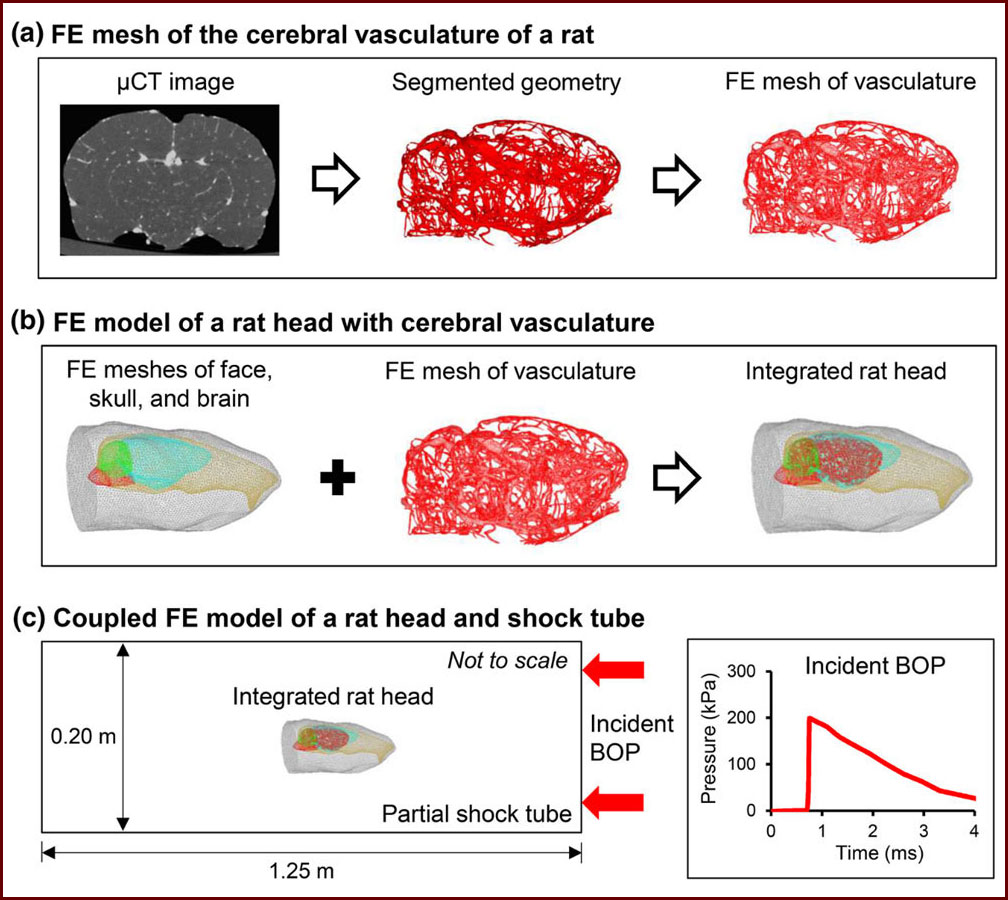 Figure 1: Sequence of steps involved in the development of the high-fidelity three-dimensional finite-element model of the rat head.
---
Relevance of Work to DoD
Animal studies have advanced our understanding of blast-induced TBI. However, we cannot directly apply the results of such studies to humans, given the lack of validated scaling laws to translate the injuries observed in animals to those in humans. Accurate high-fidelity FE models of animal brains could serve as a means to predict how blast waves affect the brain, and extrapolate what would happen in humans from injuries induced in animals. This capability will help us identify the changes underlying non-contact blast-induced TBI and, in turn, specific countermeasures to mitigate the injury.
Figure 2: Three-dimensional geometry of the cerebral vasculature of a male Sprague–Dawley rat developed from microcomputed tomography images.
---
Computational Approach
We collected micro-computed tomography (µCT) images from Sprague–Dawley rats to obtain the geometry of the cerebral vasculature. We then used the Centennial High Performance Computing (HPC) Machine at the Army Research Laboratory (ARL) to develop a 3-D high-fidelity FE rat-head model that incorporated this geometry, along with the high-strain-rate properties of the face, skull, brain tissues (brainstem, cerebellum, and cerebrum), and cerebral vasculature. To this end, we generated a 3-D FE mesh of the cerebral vasculature from the µCT images (Figures 1a, 2), integrated this with FE meshes of the face, skull, facial bones, and brain (Figure 1b), and coupled the integrated rat-head model with a 3-D FE model of a partial shock tube. We then validated the complete model using data from rats exposed to blast overpressure (BOP) in a shock tube (Figure 1c).
We hypothesized that incorporation of the cerebral vasculature and high-strain-rate material properties of the rat brain into the model would influence the biomechanical response of the brain to blast waves. To test this conjecture, we compared how BOPs influenced brain pressure, brain strain, and cerebral vasculature strain in three models: one with vasculature (RHwCV), one without vasculature (RHw/oCV), and one without vasculature but using human high-strain-rate material properties (Legacy), as has been previously used [4]. As each model had over one million finite elements, we employed ARL HPC Modernization Program resources to perform the computationally intensive simulations.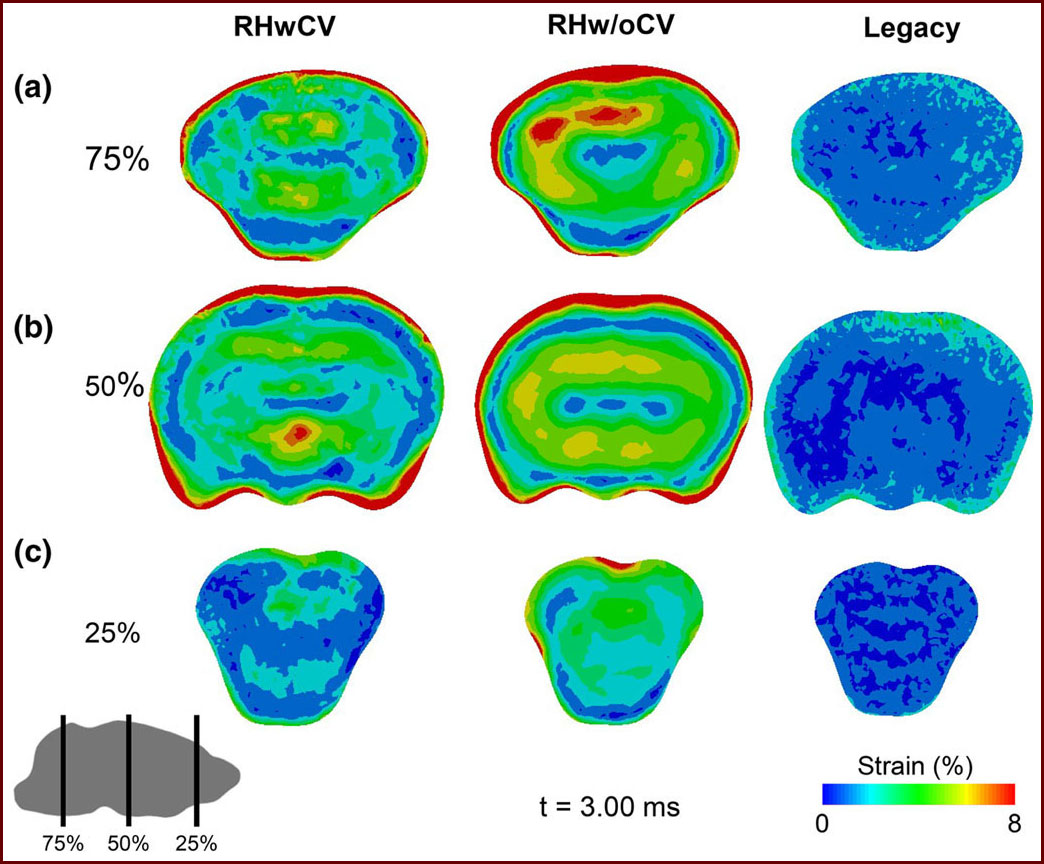 Figure 3: Comparison of maximum principal strains in the coronal plane at the back, center, and front (75, 50, and 25%, respectively, from the anterior end) of the brain predicted by models with cerebral vasculature (RHwCV), without vasculature (RHw/oCV), and without vasculature but with human material properties (Legacy).
---
Results
The cerebral vasculature and material properties of the rat brain did not influence predictions of brain pressure. However, they affected predictions of the magnitude of the maximum principal strain. Strains predicted by the Legacy model (Figure 3, right), which lacked vasculature and used the stiffer material properties of human brain tissue (relative to rats), were as much as 3 times lower than those predicted by the RHw/oCV model, which used the material properties of rat brain tissue (Figure 3, center).
Incorporation of cerebral vasculature also affected the distribution of maximum principal strain. Strains at the bottom of the brain did not differ between the RHwCV and RHw/oCV models (Figure 3, left and center; Figure 4), likely because vasculature is absent in this area. Strains in other regions were lower for models with vasculature (Figure 3, left and center; Figure 4: RHwCV vs. RHw/oCV). These reductions were greater for thicker vasculatures (Figure 4, center and right). The pattern of average peak maximum principal strains across brain regions (cerebrum, cerebellum, and brainstem) differed between the RHw/oCV (6.2, 6.8, and 6.6%, respectively) and RHwCV (0.01 mm) models (6.1, 5.7, and 6.3%, respectively).
Our findings highlight the importance of species-specific material properties and cerebral vasculature in a 3-D FE model of a rat head for assessing the effects of blast exposure. In addition, the strain distributions predicted by high-fidelity models will help us localize the key sites of injury in the rat brain and, thereby, identify the underlying mechanisms of primary blast-induced mild TBI.
Figure 4: Comparison of maximum principal strain in the mid-coronal plane predicted by rat head models with (RHwCV) and without cerebral vasculature (RHw/oCV). For the RHwCV models, the cerebral vasculature (thickness of 0.01 or 0.10 mm; represented as black dots) is superimposed on the brain.
---
Future
In ongoing collaborations with the Walter Reed Army Institute of Research (WRAIR) and New Jersey Institute of Technology (NJIT), we are examining the brain regions affected by blast exposure and the mechanisms underlying blast-induced changes at these sites. Our next challenge will be to develop high-fidelity FE models of a Göttingen minipig and a human to determine the scaling laws to translate the results in animals to those in humans.
Co-Investigators
Professor Kenneth Monson (The University of Utah); Dr. Joseph B. Long, Dr. Sujith Sajja, and Mr. Stephen van Albert (WRAIR); Professor Namas Chandra (NJIT)
Publications:
Defense and Veterans Brain Injury Center. Defense Medical Surveillance System and Theater Medical Data Store provided by the Armed Forces Health Surveillance Branch. 2018 June 21. https://dvbic.dcoe.mil/system/files/tbi-numbers/worldwide-totals-2000-2018Q1-total_jun-21-2018_v1.0_2018-07-26_0.pdf (accessed 6 Aug 2019).
Bell, E. D., M. Converse, H. Mao, G. Unnikrishnan, J. Reifman, and K. L. Monson. Material properties of rat middle cerebral arteries at high strain rates. Journal of Biomechanical Engineering. 2018 July 1; 140(7):071004.
Unnikrishnan, G., H. Mao, A. Sundaramurthy, E. D. Bell, S. Yeoh, K. Monson, and J. Reifman. A 3-D rat brain model for blast-wave exposure: effects of brain vasculature and material properties. Annals of Biomedical Engineering. 2019 May 3; [Epub ahead of print].
Zhang, L., J. Bae, W. N. Hardy, K. L. Monson, G. T. Manley, W. Goldsmith, K. H. Yang, and A. I. King. Computational study of the contribution of the vasculature on the dynamic response of the brain. Stapp Car Crash Journal. 2002 November; 46:145–164.
This article was published in the March 2020 issue of the TATRC Times.