April 2018
BHSAI Develops Software to Track Antibody Responses to Vaccines
April 13, 2018 | Download PDF
Vaccines are a critical component in maintaining Force Health Protection by providing a first line of defense against infectious diseases or weaponized biological agents. The U.S. Army carries out pre-clinical and clinical vaccine research on a wide range of biological targets, from malaria and dengue fever to Ebola and Anthrax. However, the development of vaccines capable of durable, long-lasting protection remains a significant challenge. Recent advances in DNA sequencing technology have enabled researchers to characterize immune responses elicited by vaccines at an unprecedented level of detail. In a new Defense Threat Reduction Agency-funded research effort, scientists at TATRC's Biotechnology High Performance Computing Software Applications Institute (BHSAI), in collaboration with U.S. Army Medical Research Institute of Infectious Diseases (USAMRIID), have begun to identify features of vaccine-induced immune responses that are associated with efficacy and durability.
Many vaccines produce immune cells called B cells, which secrete antibodies that bind specifically to and neutralize an invading pathogen. The genes that code for antibodies are rearranged and evolved in a complex manner in response to an infection to produce a large repertoire of B cells that fight the infecting pathogen. However, despite the recent advances in high-throughput sequencing of antibody genes (i.e., immunosequencing) to characterize this process, the staggering number and diversity of B cells, and the complex genetic relationships between them, presents significant challenges in analyzing such immunosequencing data.
To address this issue, the BHSAI team led by Dr. Sid Chaudhury, developed a specialized software program called B cell Repertoire Inductive Lineage and Immunosequence Annotator (BRILIA), to convert DNA sequences into B cell lineage trees that track how the B cell repertoire evolves over time as a response to vaccination.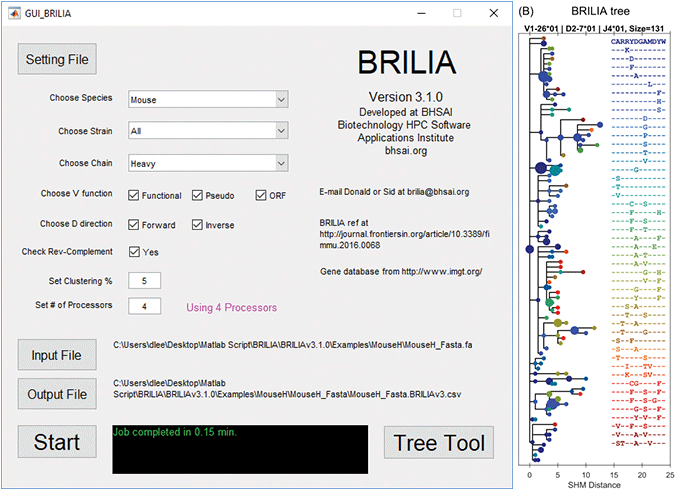 The Web-based server and user interface for the immmunosequencing annotation tool BRILIA, which is available to all DoD vaccine researchers. The B cell lineage map on the right annotates the evolution of vaccine-induced antibody responses from the immunosequencing data.
In collaboration with Dr. Chris Cooper from USAMRIID, Dr. Donald Lee at BHSAI analyzed data from mice vaccinated with Ebola vaccine candidates to pinpoint how the B cell development process differs under different vaccination conditions. Their results showed that vaccination regimens associated with long-term protection elicited B cell lineages that were highly evolved and focused on a distinct subset of shared antibodies sequences compared to less efficacious vaccine regimens which elicited broader, but less focused immune responses. They are currently working to understand how these shared antibodies sequences evolve over time and what role they may play in durable immunity.
The BRILIA software was designed as a generalized immunosequencing analysis platform that can be applied to a wide range of immunology and vaccine research efforts. The BHSAI team has developed a Web-based user interface for the software that enables DoD scientists to upload and analyze immunosequencing data from a range of sequencing platforms. In addition to research in Ebola, BRILIA is being used in a collaboration with the Walter Reed Army Institute of Research to analyze data from both pre-clinical and clinical studies in malaria vaccines.
Dr. Chaudhury stated, "BRILIA will allow us to rapidly profile antibody responses in human and animal vaccine studies and identify patterns of antibody responses that may be linked to vaccine efficacy and protection."
This article was published in the April 2018 issue of the TATRC Times.