March 2019
The ADvanced VIrtual Support for OpeRational Forces (ADVISOR) System
March 31, 2019 | Download PDF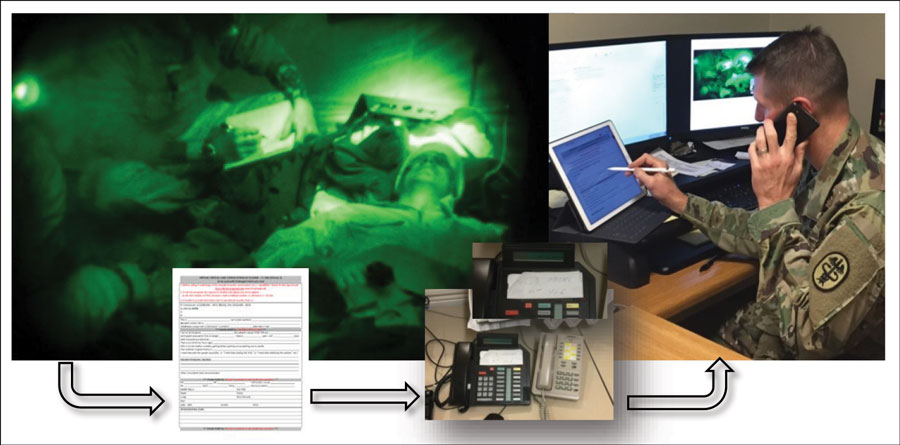 Figure 1. Special Operations Medical Sergeant caring for a simulated critically ill trauma patient during the Mountain Path prolonged field care training exercise. Using the Virtual Critical Care Consultation (VC3) call guide, the medic, if able, first sends images of the casualty, care documentation flow sheets, and available equipment via e-mail to the VC3 distribution list and then calls the VC3 phone number which forwards to the on call VC3 intensivist who provides consultation.
---
The project previously known as the ADvance VIrtual Support for Special OpeRations (ADVISSOR) is an AMEDD Advanced Medical Technology Initiative (AAMTI) funded effort that has just completed. The ADVISSOR project built upon and expanded a previous AAMTI funded effort, the Virtual Critical Care Consultation (VC3) Service (Powel 2017). This AAMTI project facilitated collaboration between the U.S. Army Institute of Surgical Research (USAISR) and the 3rd Special Forces Group (3SFG) to develop the techniques, tactics, and procedures (TTPs) that would enable the VC3 service to deliver advanced critical care consultation to Special Operations Forces (SOF) medics at anytime, anywhere using low cost, low technology, highly reliable solutions. The system utilized ubiquitous technology: a call roster for critical care physicians at the Brook Army Medical Center (BAMC) and a call forwarding system to connect SOF medics with intensivists using a single phone number. Callers were encouraged to send images and/or background information devoid of personally identifiable information and operationally sensitive information to an e-mail distribution list of VC3 intensivists prior to calling.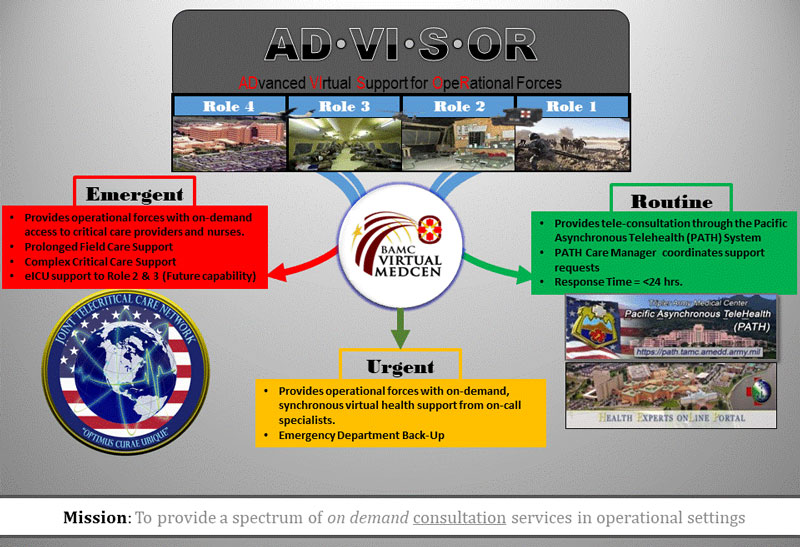 Figure 2. The ADVISOR System unifies asynchronous consultative portals, the Pacific Asynchronous TeleHealth (PATH) portal and the Health Experts online Portal (HELP), with the synchronous consultative systems for urgent, specialty care consultation and emergent, critical care consultation.
---
Unfortunately, the original design was less than reliable because the call forwarding system was a desktop phone with a call forwarding feature (Figure 1). The ADVISSOR project sought to enhance the system's reliability and to further expand access to other specialties besides critical care for the dislocated medic caring for patients in austere settings. ADVISSOR purchased an automated call distribution (ACD) system license and funded a project coordinator (PC) to help facilitate call schedules and data collection. The PC also helped develop and coordinate training for the new clinicians from other specialties that were to start taking calls.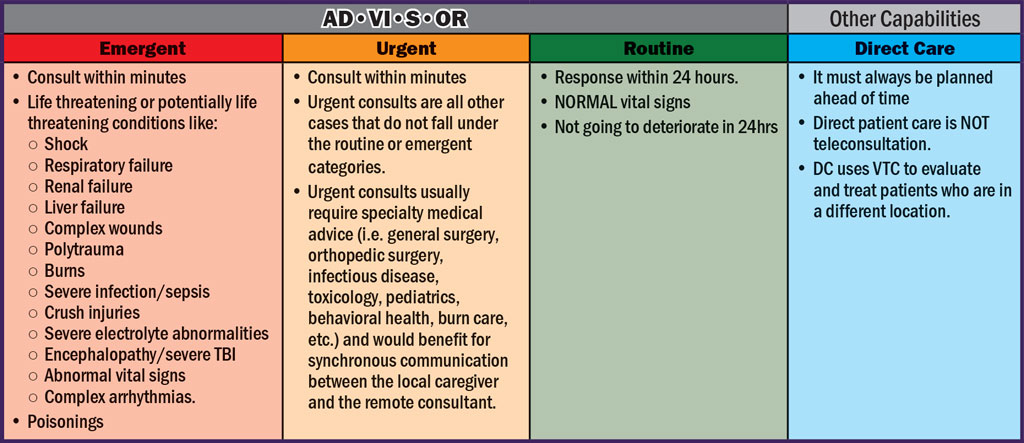 Table 1. Categories of care for Operational Virtual Health Support Capabilities. The ADvanced VIrtual Support for OpeRational forces enables expert consultation at the point of need. Other solutions exist for direct patient care.
---
The ACD system was custom designed to allow calls to automatically "switch" between a primary on-call physician, then to a back-up on-call physician in the event that the primary physician did not answer the call (usually due to other clinical engagement [i.e. in an operation or procedure] or bad cellular service), and ultimately to a continuously staffed emergency department. This system, following some initial technical difficulties related to the custom programming, ensured that all calls were answered. The ADVISSOR project further developed TTPs learned through the VC3 effort into a Standard Operating Procedure for how to engage consultants for routine, urgent, and emergent consultations and unified other operational virtual health (OVH) capabilities under one system, now called ADVISOR (ADVanced VIrtual Support for OpeRational forces) (Figure 2). In this system, OVH support capability is determined by operational context: routine care, urgent care, or emergent care (Table 1). Not pictured is the concept of "direct patient care," vice consultative care. Direct patient care by a remote provider requires additional technology support and assurances for patient safety because there is potential that this care may be provided in lieu of having a local caregiver supporting the patient. The ADVISOR system is a consultative OVH capability only; although, use of the ADVISOR system may enable direct patient care and any call may be escalated to use more advanced technologies like video teleconferencing (VTC) and remote physical exam equipment if/when network resources permit.
Table 2. Best practices for operational Virtual Health support
•Telemedicine consultation is a skill. Local caregivers and remote consultants must train to sustain this skill.
•Prepare to use telemedicine by training with the telemedicine system you will use on deployment. Have a PACE plan.
•Recognize when to make the call: better to "call early and call often"
•Execute the consultation.
Use a telemedicine script to be efficient and complete.
Send background information asynchronously before calling.*
Use closed loop communication.
The remote consultant should document the encounter and send recommendations to the local caregiver using text or e-mail.
•Problem Solve technical challenges. Do not use technology that you do not need (i.e. do not use VTC when phone call is sufficient and do not use e-mail alone to ask questions about a critically ill patient. Practice using the technology during training so that you can problem solve more efficiently.
*All images should be cleaned of personally identifiable information or encrypted before sending and should be thoroughly scrutinized for operational security (OPSEC) purposes.
The initial call system for ADVISSOR included call rosters for critical care, general surgery, orthopedic surgery, infectious disease and dermatology. After the first six months of use, there were no calls for dermatology despite a high volume of asynchronous dermatology consultation using the AKO e-mail system, the Pacific Asynchronous TeleHealth Portal (PATH) and the Health Experts online Portal (HELP). The dermatology call roster was switched to toxicology. Over the next six months, additional call service lines were added for pediatrics, the U.S. Army Burn Center, and veterinary services. Thus far, the system has supported over 130 training calls and 40 real world consultations in its first 18 months of usage with call volume steadily increasing over the past twelve months (Figures 3 & 4). The majority of calls in the first 12 months of service were from AFRICOM representing 3SFG area of operation (AOR); whereas, in the last six months of service, call volume has shifted to the CENTCOM AOR (data not shown). Estimated savings for the synchronous component of ADVISOR based on evacuation avoidance for only 6 real world cases was approximately $250,000. Thus the return on investment for this project far exceeded the AAMTI funding level of less than $200,000.
Figure 3. Call volume for training (red) and real world (blue) calls.
---
Notable challenges remain for the ADVISOR system. These include: knocking down tactical-to-garrison network barriers; gaining knowledge about when to employ the appropriate level of technology for a given clinical scenario; clearly identifying network resources required to support various technology solutions; process development to facilitate flexible switching between telephone only calls and VTC supported calls when needed; adding multipoint/tele-conferencing capabilities to support better situational awareness of the medical chain of command during remote consultations; developing cross region staffing models for the on-call system; and completing the integration of ADVISOR with the Joint Tele Critical Care Network in order to enable continuous, real-time consultative support from the point-of-injury through definitive care. Effective PACE planning (primary, alternate, contingency, and emergency) is crucial for the successful use of telemedicine to support real patient care. The primary plan should be to train and deploy the appropriate resources to care for the anticipated casualty burden. In the absence of the required resources (personnel, equipment, medications, diagnostics, knowledge/skills/abilities) and the ability to rapidly evacuate a casualty to them, telemedicine is an option for the alternate or contingency plan.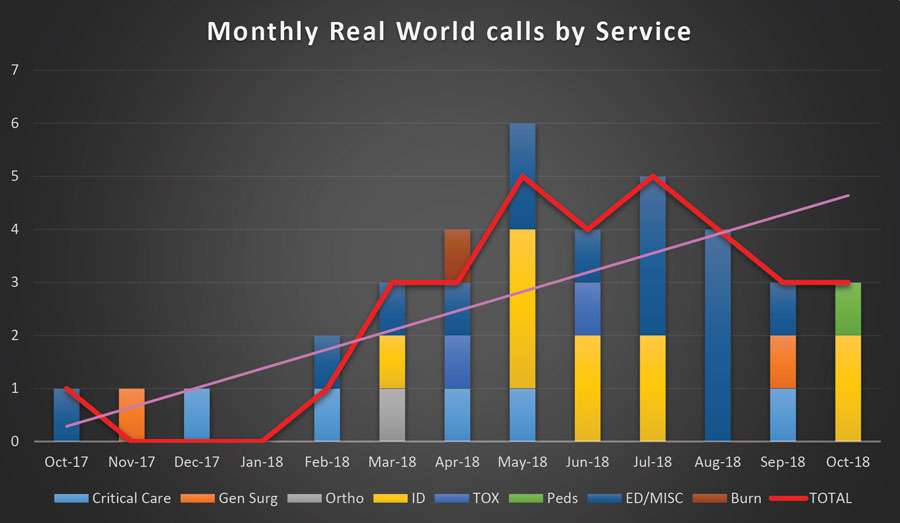 Figure 4. 12 months call volume for real world calls. Linear trundling demonstrates notable increase in call volume over time.
---
The ADVISSOR project and subsequent transition to the ADVISOR system has demonstrated that delivery of remote telemedical consultation using phone calls, enhanced by emails with images and background data is a technically feasible and a medically viable option for deployed forces to help care for a full spectrum of casualty. This project has helped define best practices for conducting critical care consultations between a medic and a sub-specialty board certified physician which are summarized in Table 2 (Vasios 2017, Nettesheim 2018).
Mr. Mike Kile, Operations Readiness Program Manager for the U.S. Army Virtual MEDCEN stated, "ADVISOR has quickly become the backbone for operational medicine support from the Role IV reaching all the way forward to the point of need. The simplicity of making a call for help, with the capability to scale to need, will allow the medical force to have an even greater impact on preserving combat power and increasing Soldier lethality."
For more information about operational virtual health, please visit: https://prolongedfieldcare.org/telemed-resources-for-us-mil/. For the ADVISOR phone number and how-to-guide, please e-mail: dod.ADVISSOR_Office@mail.mil from a .mil address.
References:
Powell D, McLeroy RD, Riesberg J, Miles EA, Dellavolpe J, Keenan S, Pamplin JC. Telemedicine to Reduce Medical Risk in Austere Medical Environments: The Virtual Critical Care Consultation (VC3) Service. Journal of special operations medicine: a peer reviewed journal for SOF medical professionals. 2017;16(4):102-9.
Vasios WD, Pamplin JC, Powell D, Loos PE, Riesberg J, Keenan S. Teleconsultation in Prolonged Field Care Position Paper. Journal of special operations medicine: a peer reviewed journal for SOF medical professionals. 2017;17(3):141-4.
Nettesheim N, Powell D, Vasios W, Mbuthia J, Davis K, Yourk D, Waibel K, Kral D, McVeigh F, Pamplin JC. Telemedical Support for Military Medicine. Military Medicine. 2018 Jun 22.
This article was published in the July 2019 issue of the TATRC Times.