December 2018
A 5 Year Lookback at AAMTI
December 31, 2018 | Download PDF
During the last five years at TATRC, the AMEDD Advanced Medical Technology Initiative (AAMTI) program has transformed into an 'innovation incubator' for enthusiastic clinicians across the AMEDD. The introduction of the Rapid Innovation Fund (RIF), as part of the AAMTI portfolio of funding mechanisms, placed innovation and rapid fielding within AMEDD military treatment facilities at the forefront of the AAMTI program. By focusing on technology innovation, the AAMTI program made technology scouts out of all AAMTI awardees. In the last 5 years, over 214 AAMTI Innovators have been awarded, supporting 124 Extended Innovation Fund (EIF) projects and 49 RIF projects at over thirty-eight sites across the AMEDD.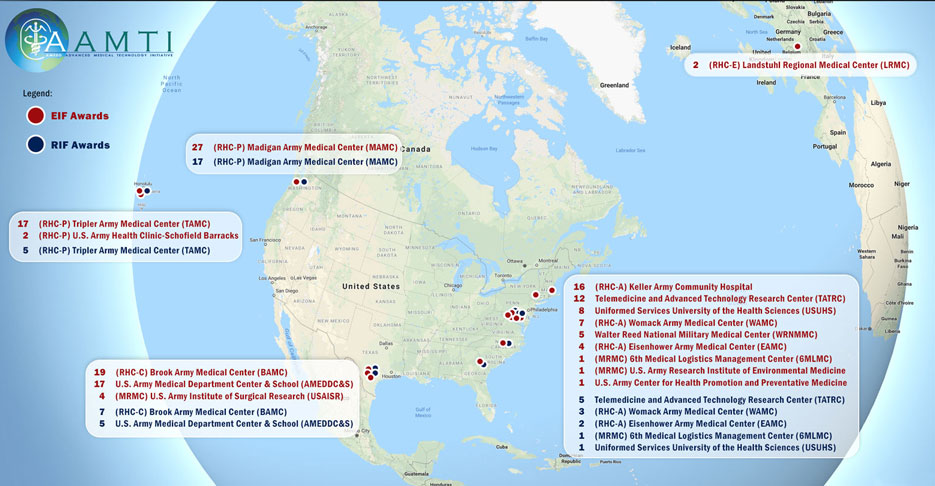 This image shows the location and number of projects the AAMTI program has funded through the Extended Innovation Fund (EIF) in the last five years.
---
The program not only supports awardees on the front end, but also markets their successes in a variety of formats to showcase and reward their hard work. The best projects of the year were highlighted at TATRC's Annual Open House, held last year on 12 September 2018 at Fort Detrick, MD. At this forum, over thirty AAMTI projects have been showcased to senior decision makers and thought leaders across military medical research. Additionally, over thirty AAMTI projects have been featured in the TATRC Times quarterly Newsletter, which has a distribution to approximately 2,000 subscribers. Information on AAMTI success projects can also be found on the www.tatrc.org website.
In the last five years, over forty-five podium presentations and technical posters have been presented by AAMTI awardees on AAMTI projects. Additionally, there have been over twenty-one peer-reviewed journal articles produced from AAMTI funded projects, which is extremely impressive considering AAMTI projects are the step before research projects. Finally, there are currently four patents pending for AAMTI awarded projects signaling the impact that the AAMTI program has had by funding AAMTI projects at the forefront of science and innovation.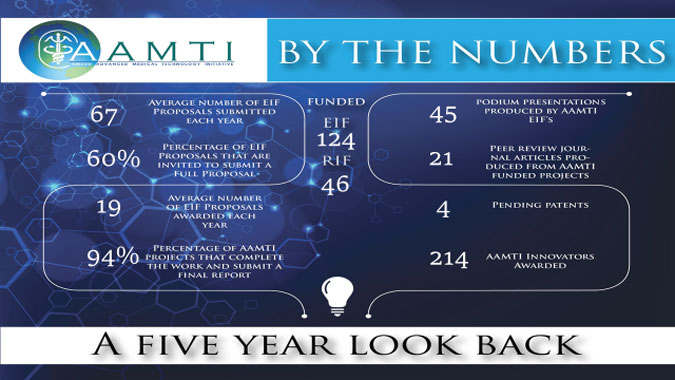 In addition to sharing knowledge through publications and presentations, Ms. Holly Pavliscsak, AAMTI Program Manager, has brought a renewed focus on transitioning successful proofs of concepts to product development teams.
COL Donald Goss, Associate Professor and Program Director at Keller Army Community Hospital and the United States Military Academy at West Point, NY stated, "Overall, as a result of AAMTI funding, the Keller Army Community Hospital team has had the opportunity to complete and present their research through 1 invited presentation, 5 platform presentations and 17 poster presentations at nationally recognized conferences. Additionally, they have had 3 abstracts and 3 manuscripts published in peer-reviewed journals with many more to come. None of this work would have been possible without the AAMTI funding received. The research conducted has informed providers and benefited over 2000 patients in the past 4 years alone. The team is sincerely appreciative of the AAMTI program that has been a true force multiplier for the research team at Baylor University-Keller Army Community Hospital Division 1 Sports Physical Therapy Fellowship."
This article was published in the July 2019 issue of the TATRC Times.