Leadership Bios
Leadership Bios
COL Jeremy C. Pamplin (Director)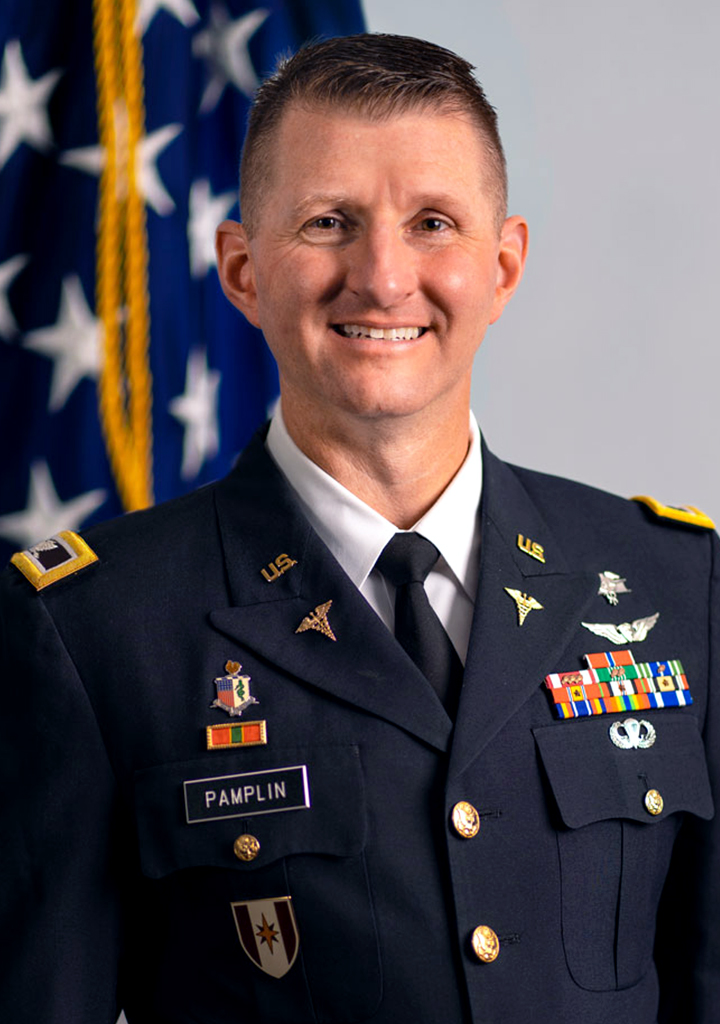 COL Jeremy C. Pamplin currently serves as the Director of the Telemedicine and Advanced Technology Research Center (TATRC). Before stepping into the role of Director, he previously served as the Deputy Director when he joined TATRC in August of 2018. Immediately prior to this assignment, he began the Army's first Tele-Critical Care service at Madigan Army Medical Center from 2016-2018. Prior to that assignment, he was the Chief of Clinical Trials in Burns and Trauma and the Medical Director of the U.S. Army Burn Intensive Care Unit at the U.S. Army Institute of Surgical Research. He has served as medical director of surgical and medical ICUs since completing his Critical Care Medicine fellowship at Walter Reed Army Medical Center. COL Pamplin deployed twice: once in support of Operation Iraqi Freedom as the Chief of Critical Care for the 86th Combat Support Hospital and once to Afghanistan in support of Operation Enduring Freedom as the Deputy Deployed Medical Director of the 33rd Field Hospital (UK) and the American Contingent's physician leader. He was the principal investigator for the ADvanced Virtual Support for Special OpeRations forces (ADVISSOR) project that transitioned to the ADvanced Virtual Support for OpeRational Forces (ADVISOR) Service, the Army Virtual Medical Center's Operational Virtual Health Capability. Other major research efforts in progress are designed to support remote critical care mentoring of caregivers during prolonged field care (PFC) using telemedicine, the TeleAWARE project measuring the impact of virtual critical care services on quality and safety measures in a military ICU, and the Burn Medical AssistaNT (BurnMAN) project to automatically map casualty burn size. COL Pamplin received a bachelor of science from West Point in 1997 and his medical degree from the Uniformed Services University in 2001. He is the recipient of the Meritorious Service Medal with three oak leaf clusters and the U.S. Army Medical Command's "A" designator.
---
COL Justin Stewart, DO, MBA, MHA (Deputy Director)
COL Stewart is a board-certified Internal Medicine Physician who completed residency at Brooke Army Medical Center. His education includes a DO from the UNT Health Science Center--Texas College of Osteopathic Medicine and a MBA and MHA from Baylor University. His foreign assignments include OIC of the Level II clinic at Camp Red Cloud in the Republic of Korea, Battalion Surgeon of the 1-75 CAV 2BCT 101 ABN in Iraq (OIF), and Staff Internist with the 14th CSH in Afghanistan (OEF). His most recent operational assignment was as the Command Surgeon of the 593d Sustainment Command (Expeditionary) which ended in 2017. He just completed a fellowship in Clinical Informatics at JBLM, WA and is looking forward to joining the TATRC Team as the Deputy Director and supporting COL Pamplin in providing advanced technologies to the front-line medic.